PC Specialist has broken a speed record to hustle a budget gaming PC out of the door that uses the latest AMD RX 480 graphics card based on the new Polaris GPU. When you spend £799 you generally get a Core i5 with GTX 960 4GB graphics so the prospect of an RX 480 8GB is highly appetising.
Based on KitGuru reviews of RX 480 the stock GPU can be expected to perform as well as GTX 970 and if you work hard on the overclocking you can may even approach the levels of GTX 980. By that reckoning PC Specialist Hyperion Master sounds like it might be a cheap gaming PC that performs well in 1080p, which is a pretty darned exciting prospect.
Specifications
CPU Intel Core i5-6400 (2.7GHz base, 3.3GHz Turbo)
CPU cooler PC Specialist FrostFlow 120mm liquid cooler
Memory 8GB HyperX Fury DDR4-2133MHz RAM
Motherboard Asus Z-170P
Graphics card AMD Radeon RX 480 8GB
SSD 120GB HyperX Savage SSD
Storage 1TB Toshiba hard drive
Audio Realtek 8-channel
Case In-Win GT1
PSU Corsair VS550
OS Windows 10
When a PC costs £599 your expectations are fairly low but £799 is a tricky area. The graphics card accounts for fully one quarter of the price and the Core i5-6400 retails for £150, which is another hefty chunk. 8GB of Kingston DDR4-2133MHz costs £30-£40 so while we like the idea of more memory or faster memory we understand that compromises have to be made.
It's a similar story with the Corsair VS550 power supply which is a budget piece of hardware or the 120GB Kingston SSD which is backed up by a 1TB Toshiba hard drive. At every stage in the game PC Specialist could have bumped up the specification and made Hyperion Master more luxurious but the price would have also risen exponentially.
The result is a gaming PC that looks neat and tidy, and which has clearly been professionally built with every cable in the correct place. From a cosmetic point of view Hyperion Master lacks impact as the In-Win case GT1 is a bit plasticky and has a bazillion vents that appear to be styled to suit teenagers.
We older types look at the GT1 and merely see a great many places that will require dusting. It is a similar story with the PC Specialist branded 120mm liquid cooler where you can either clap your hands with glee at getting liquid cooling or you might instead wonder why it isn't Corsair, Thermaltake or NZXT (to name but three brands). The answer, obviously, is price.
Testing
And so we come to the big question of how the PC Specialist Hyperion Master performs. Does it deliver more oomph than we expect for £799 or is it merely another budget PC?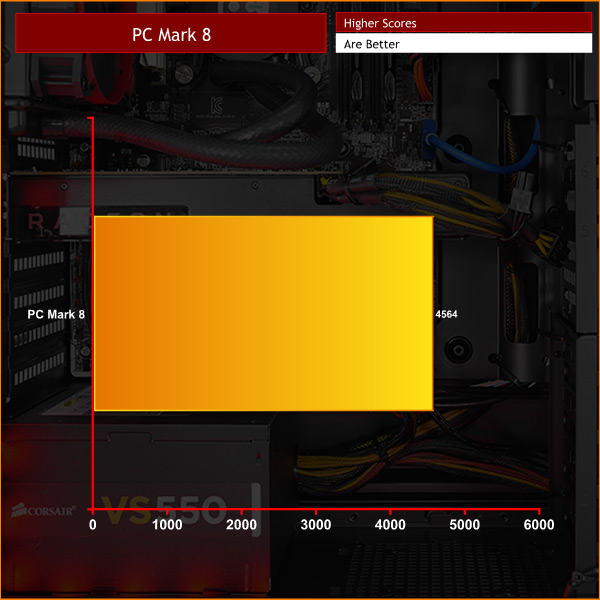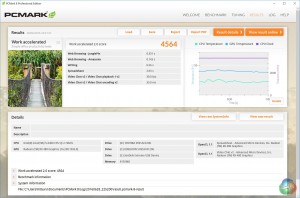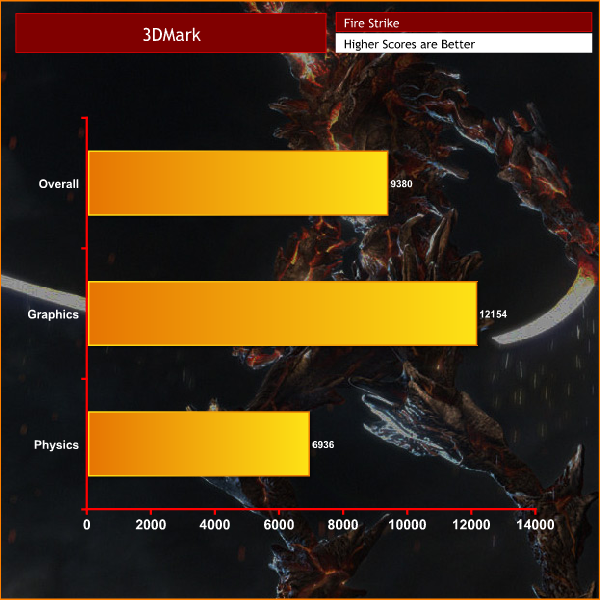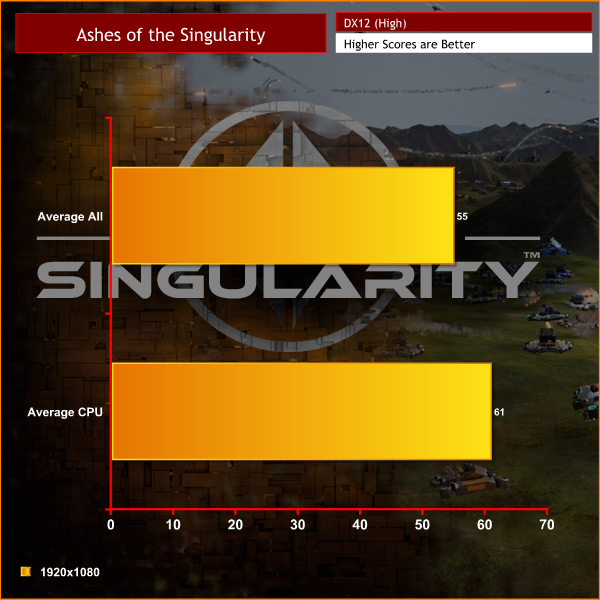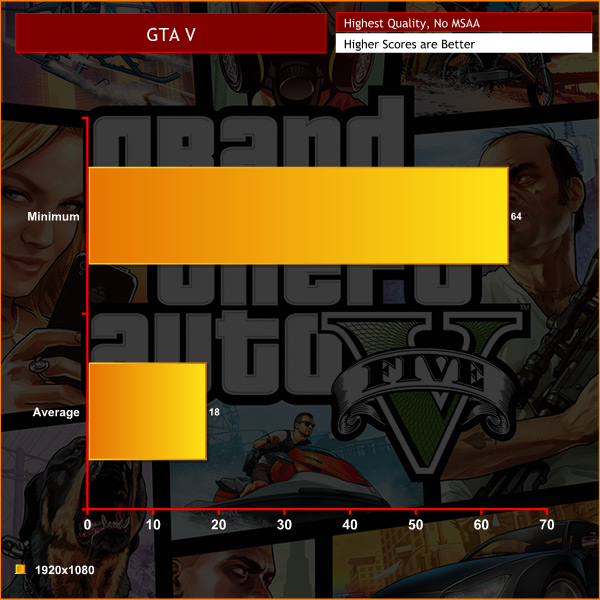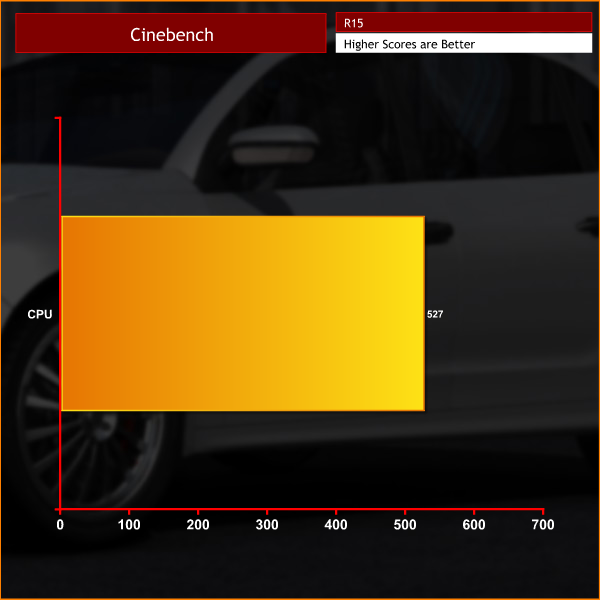 Happily the answer is that a combination of Core i5, RX 480, Kingston DDR4 and Kingston SSD does a fine job. We were able to play Grand Theft Auto V, Ashes of the Singularity and Rise of Tomb Raider at 1080p with the settings cranked High. Average frame rates were in the 55fps to 70fps range and the gaming experience was good.
It is worth reiterating a point we make in the video which is that the AMD drivers were a Beta and performance will only improve from these levels. In addition, if PC Specialist ditches the reference design for an after-market RX 480 that should also deliver an improvement.
You have to be realistic and accept that 4K is out of bounds for this PC but, provided you are sensible about screen resolution, the Hyperion Master does a fine job.
Cooling Performance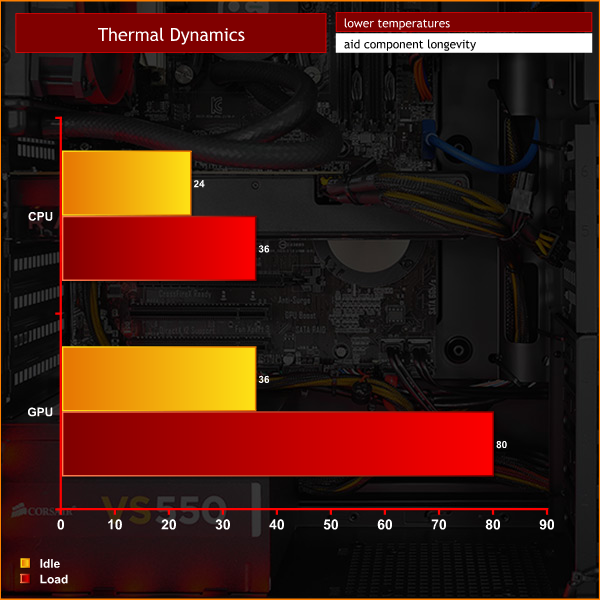 CPU temperatures are very low, which is exactly what we expect to see from a 65W TDP Core i5 with a relatively low clock speed. The GPU temperature is quite high for a new graphics card running at stock clocks, however we are confident this is entirely due to the lousy reference design CPU cooler that AMD has used. Once again, a change from the reference design is likely to be a change for the better.
Acoustics performance
With the case fans running in silent mode the PC Specialist Hyperion Master is very quiet. This is impressive when you consider the case isn't filled with noise deadening material and uses a fairly basic liquid cooler. Clearly the low power draw of the CPU and GPU play their respective parts as the system doesn't produce much heat, so overall we were very pleased with the low noise levels.
Closing Thoughts
Typically £799 will buy you a Core i5 PC with GTX 960 graphics so this PC Specialist Hyperion Master with AMD RX 480 is very good news indeed. For a relatively modest price you get a PC that looks perfectly OK and which performs like a Bantam Weight with more punch than you might expect from a tiddler.
We have to treat Hyperion Master as an overture, rather than the full symphony, as we need to see a PC with an after-market RX 480 in place of the reference graphics card. Even so, on this evidence it is clear that AMD is back in the fight and is addressing the lower end of the market, and the result is a £799 PC you really ought to buy.
Buy the Hyperion Master at the special price of £799.99 from PCSPECIALIST directly over HERE.
Discuss on our Facebook page, over HERE.
Great 1080p gaming performance.
Low £799 price.
Scope for extra performance with updated drivers and overclocking.
Nice and quiet.
Only draws 80W on the desktop and 240W in 3D Mark.
Cons
Built to a price – 8GB of RAM and 120GB SSD.
Stock RX 480 cooler is very basic.
KitGuru says: PC Specialist Hyperion Master is an excellent budget gaming PC.