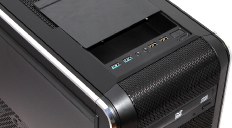 October 18th, 2013 at 1:20 pm - Author

Today we are taking a look at Dino PC's latest offering, the Dark Reign. Built inside a CM 690 III chassis, this system comes equipped with an Intel Core i5 4570, 8GB Corsair Vengeance memory clocked at 1,600 MHz and a Gigabyte GTX 770. Its £999 price tag even includes a 128 GB Plextor M5S solid state drive and an additional 1 TB storage drive. The big question is, can the Dark Reign live up to its ominous name?
We have looked at a number of systems from Dino PC in the past. If you missed our reviews of the Asusinator and Predator Extreme you can catch up by clicking here and here.
Specifications:
CPU: Intel Core i5 4570

Motherboard: Gigabyte Z87-HD3

GPU: Gigabyte GTX 770 OC 4GB

Operating System: Windows 8 64-bit

Memory: 8GB (2 x 4 GB) 1,600 MHz Corsair Vengeance

Boot Drive: 128 GB Plextor M5S

Storage: 1 TB storage drive.

PSU: Corsair CX600 PSU

Case: CM 690 III
Dino PC Dark Reign Review

,
Page : 1 2 3 4 5 6 7 8 9 10 11 12 13 14 15 16 17 18 19 20 21 22