Following an investigation into one of the most expensive product recalls ever, we now have a better idea about what Samsung's Galaxy Note 7 smartphones kept setting on fire. It turns out there were two separate issues, though both were down to manufacturing defects which caused the batteries to short circuit and catch fire.
Samsung used two different manufacturers to produce the batteries that were utilised in the Note 7 build: Samsung SDI and Amperex Technology Limited (ATL). The former is a sister company of Samsung and was responsible for the issues that caused the first battery recall. However ATL wasn't blameless, as it was its manufacturing error which lead to the secondary battery recall and ultimately the recall of the entire Note 7 smartphone stock.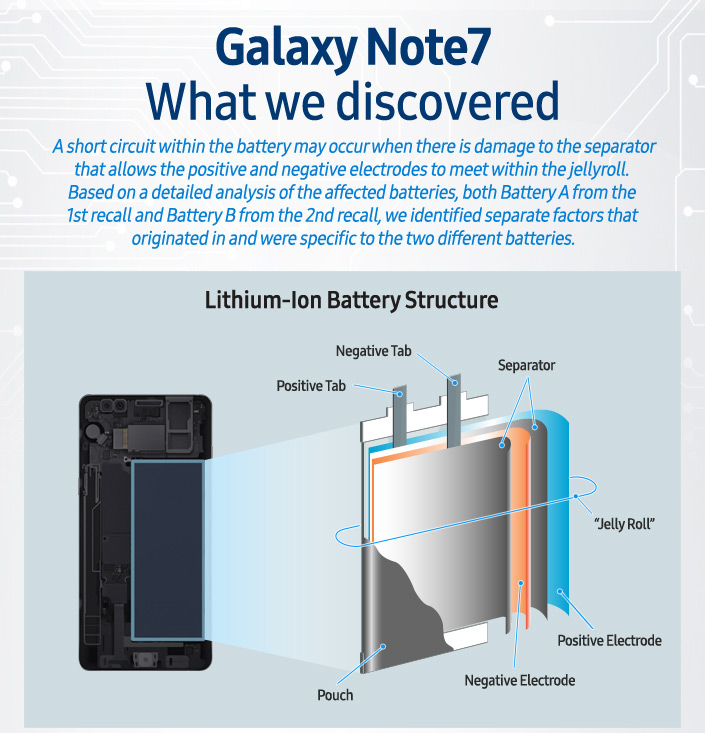 Source: Samsung
The first identified issues with Samsung SDI batteries, was that due to the negative electrodes in the battery being made too long, they would curve with the shape of the battery, making them much more likely to accidentally touch the positive electrodes. When that happened, the battery would short circuit and possibly set on fire.
ATL's manufacturing issue appears to be during the welding process. Burrs on the positive electrode lead to insulation tape and separator damage which again, made it much more likely that the positive and negative electrodes within the battery would meet. This problem was compounded by the fact that for some reason, a number of batteries made by ATL lacked any insulation tape within the battery design at all.
[yframe url='http://www.youtube.com/watch?v=6s4uqr1serU']
While the issues in each case did not guarantee that a device would short circuit, it meant there was a much higher chance. As Ars reports, the Samsung investigation discovered that in its first batch of releases, 100 per cent of all batteries and therefore devices, had the Samsung SDI battery default. That is why the full-scale recall has been so important.
With Samsung taking a hit of more than a billion dollars directly from the recall and perhaps as much as $10 billion in stock price and brand damage, it has gone all out to fix things. That's why it hired on three external firms to aid in its investigation and it no doubt hopes that with the above video and reports, it can help bring back some of the many customers affected by the dangerous phone and its recall.
Discuss on our Facebook page, HERE.
KitGuru Says: Now that we know the problems with these Note 7 phones, it's really important that all phones are recalled. We're told that some four per cent of all devices are still out in the wild. If you have a Note 7, really consider returning it. You are playing with a very real potential for fire.