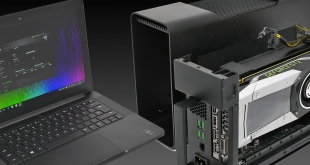 We began our recent review of the 2017 Razer Blade by telling you that Razer had updated the graphics chip from GTX 970M to GTX 1060. The laptop has continued to evolve and now it's the turn of the CPU which has been changed from Intel Core i7-6700HQ Skylake to Core i7-7700HQ Kaby Lake.
The only other change we found in the specification was a minor update from DDR4-2133MHz RAM to DDR4-2400MHz. As you will see in our video this means the revised Razer Blade is effectively unchanged.
Watch via our VIMEO Channel (Below) or over on YouTube at 2160p60 HERE
Razer Blade Kaby Lake Specification:
Processor Intel Core i7-7700HQ Quad-Core (2.8GHz/3.8GHz)
GPU Nvidia GeForce GTX 1060 6GB GDDR5 VRAM
System Memory 16 GB DDR4-2400MHz
SSD 256GB Samsung PM961 PCIe M.2
Screen 14.0-inch IPS Full HD Matte, 1,920×1,080 resolution
Wi-Fi Killer Wireless-AC 1535 (802.11a/b/g/n/ac + Bluetooth 4.1)
Ports and connectors:
Thunderbolt 3 (USB-C)
USB 3.0 port x3 (SuperSpeed)
HDMI 2.0 video and audio output
3.5 mm headphone/microphone combo port
Other features:
Built-in 2Megapixel webcam
Built-in stereo speakers
Array microphone
Dolby Digital Plus Home Theatre Edition
7.1 Codec support (via HDMI)
Trusted Platform Module (TPM 2.0) security chip embedded
Anti-ghosting keyboard with per-key lighting powered by Razer Chroma Razer Synapse enabled with programmable keyboard, track pad, back lighting, and fan control
Kensington security slot
Compact 165W power adapter
Battery Built-in 70Wh rechargeable lithium-ion polymer battery
Size 17.9 mm (Height) x 345 mm (Width) x 235 mm (Depth)
Weight 1.89 kg
Operating System Windows 10 64-bit
We admire the quality of the hardware and love the look and feel of the aluminium chassis. Our sample came with a Full HD 1,920×1,080 2K display that looks superb, just like it did before.
You won't be surprised to hear that our list of Pro and Con points is almost exactly the same as before, with one minor change. Previously we failed to criticise the way the keyboard backlights provide a light show that looks great but which doesn't light the characters on the keys. This can lead to a frustrating search for the @, ! or % key that really shouldn't be necessary and we didn't pay this sufficient heed in the previous review.
So this is effectively the same laptop and that earns Razer another award from KitGuru, however that isn't the basis for an interesting review.
Happily the day was saved as Razer sent us its Core unit which is intended to be paired with the Razer Blade Stealth laptop to beef up the relatively feeble Intel HD Graphics 620 GPU.
The idea is that you install a graphics card in the Core up to 310mm in length (either AMD or Nvidia works perfectly well) and then connect the Core to your laptop using the supplied Thunderbolt 3 cable. This prompts the Core to power up and act as both an external graphics unit and also as a docking hub.
The Core provides 4x USB 3 ports along with Gigabit Ethernet and includes a 500W power unit with two 6+2 connectors that had no problem powering our reference GTX 1080. We installed the Razer GPU Switcher software in order that we could choose between the GTX 1060 GPU inside the laptop or the GTX 1080 in the Core, and then we were set to roll.
Testing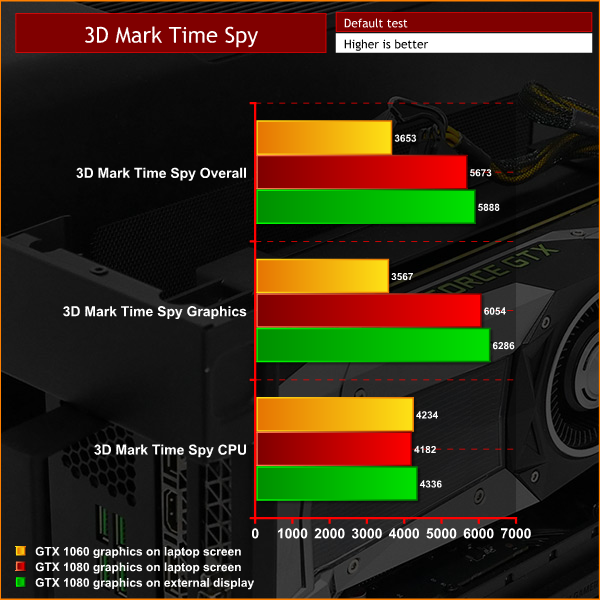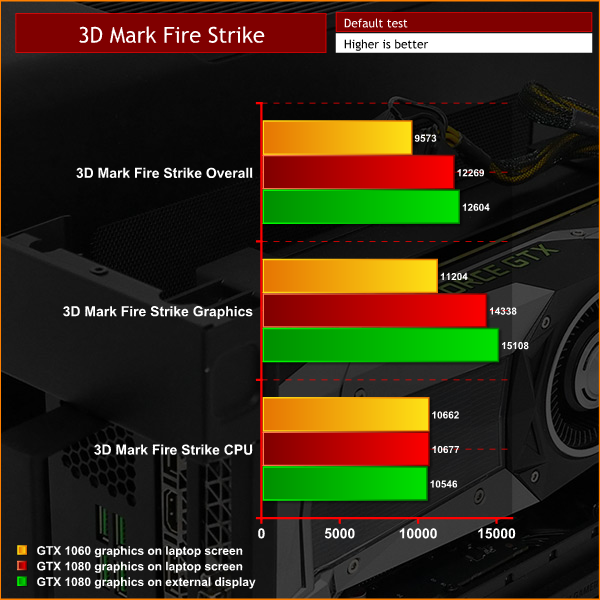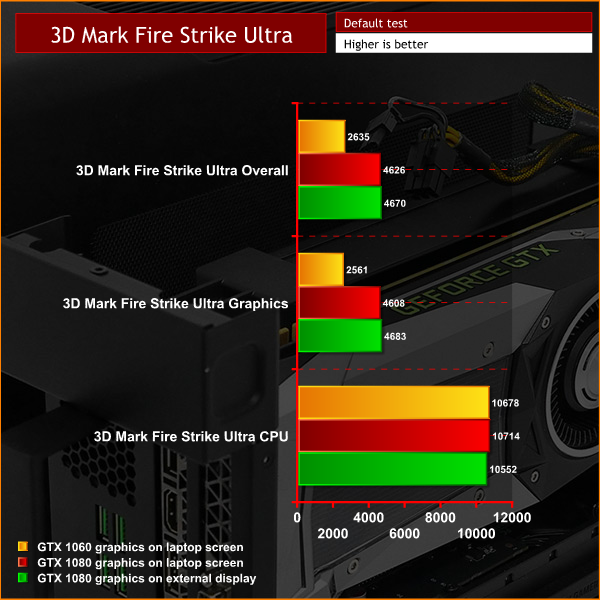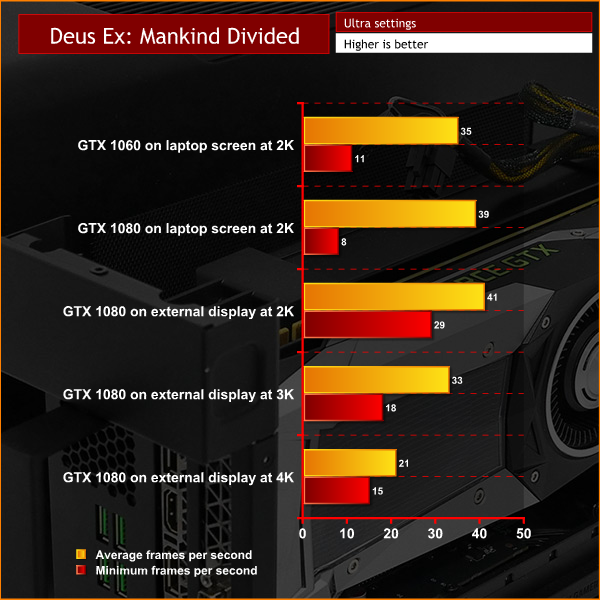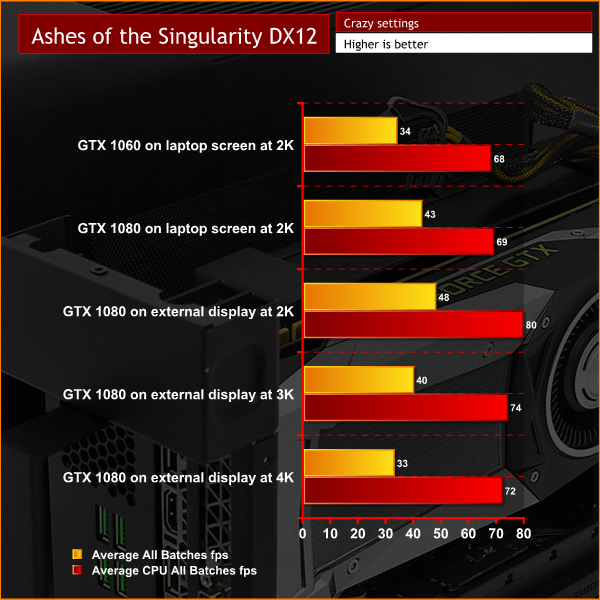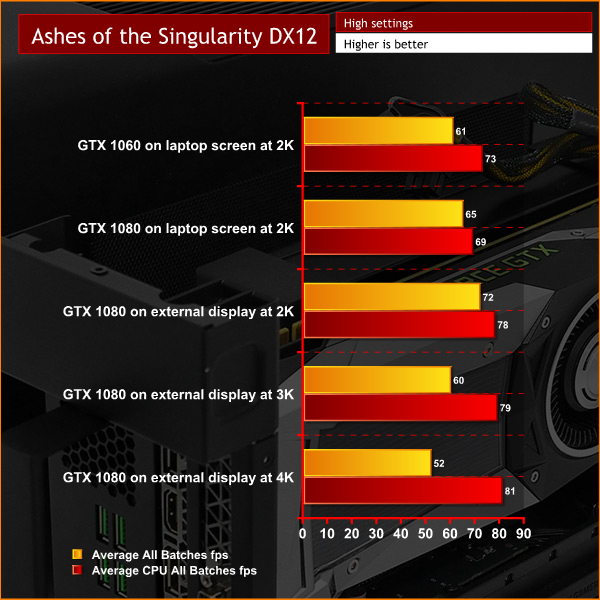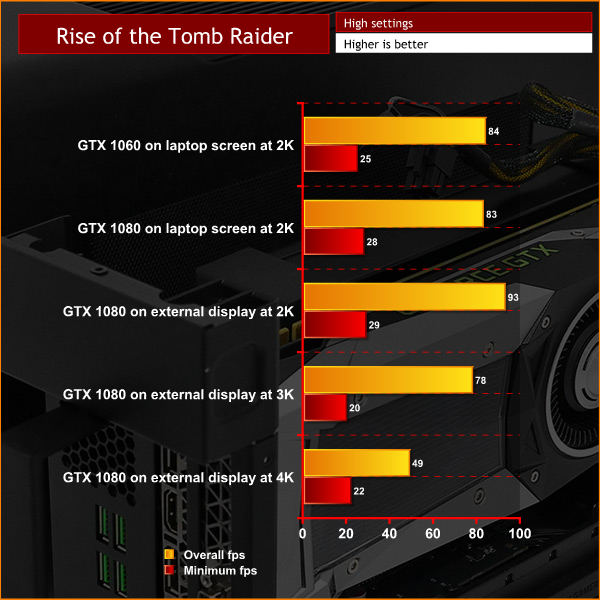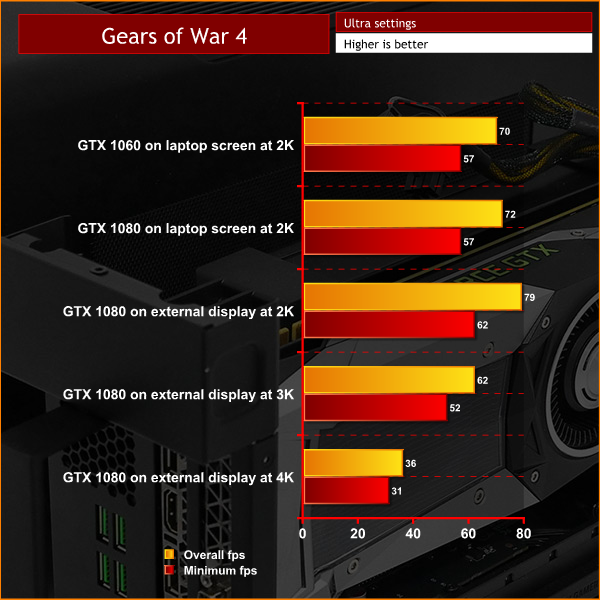 As you will see in our video the simple shift from GTX 1060 to GTX 1080 doesn't make a massive difference to game play or frame rates. In 3D Mark you can see the graphics score leap forward but this doesn't deliver much benefit in the real world. We started our testing with the Core and GTX 1080 powering the laptop display however this turned out to be a poor idea as the graphics data shares the Thunderbolt 3 cable with the data that is heading the other way. Disabling the laptop screen and outputting from the Core to an external display gave an increase of a handy 5-10 frames per second over the previous set-up.
We then increased the screen resolution to 2,560×1,440 where we saw frame rates that were similar to those delivered by the basic laptop i.e. GTX 1060 on internal 2K display.
Our final stop was to increase the resolution to 3,840×2,160 and weren't massively impressed by the results as the laptop hardware wasn't really up to the job. We had been able to comfortably play games at 1080p and now, after a massive graphics upgrade, we were now able to play the same games at 1440p which seems like a pretty lousy return for £1500.
It was clear the Core unit was delivering the goods while the bottleneck was the 45W TDP mobile Kaby Lake CPU. This may sound like a terrible failure but actually highlights the importance of the CPU in a gaming laptop. We have seen high end laptops with dual GTX 1080s that struggle to perform and know full well that desktop CPUs give an edge you simply don't get with a mobile chip.
On a more positive note our testing convinced us that Razer has chosen a sensible pairing of CPU and GPU as the GTX 1060 is an excellent graphics chip for a high end mobile CPU.
Cooling Performance.
Thermal images showing the laptop idling and then with CPU and internal GTX 1060 under full load.
And these thermal images show the laptop with the external GTX 1080 doing the heavy lifting.
As you can see, the Core housing allows the GTX 1080 to remain lovely and cool.
We didn't discuss cooling in the video however there are a couple of points of interest. The first is that this Kaby Lake model has higher idle temperatures for the CPU and GPU than we saw with the previous Skylake model. Loaded temperatures are the same so we have to conclude that Razer has adjusted the fan curve to reduce low load noise.
Secondly, and more interestingly, when we used the Core with GTX 1080 this removed the load from the GTX 1060 GPU inside the laptop. This reduced the loaded CPU temperature from 88 degrees C to 69 degrees C, which shows how much effect the GPU has on the cooling of the CPU.
Acoustics performance.
Razer Blade continues to be fairly noisy under load but we don't have much in the way of complaints. This is a very slender laptop that packs a decent CPU and GPU and the result is a certain amount of heat. Razer deals with this as well as can be expected so while we would like the Blade to be silent we accept this is not possible and will instead put up with the noise that is produced.
Closing Thoughts.
The Razer Blade continues to be superb. While we found the Razer Core graphics housing to be interesting and to work superbly well, it ultimately proved irrelevant. Yes, you can add a better graphics chip to the Razer Blade but the benefit you gain is marginal and the cost is prohibitive.
Comparing the new, slightly revised Razer Blade with Kaby Lake CPU to the recent, slightly lesser Razer Blade with Skylake is fairly pointless. The two laptops are effectively identical and while the Kaby Lake offers a slightly faster CPU we would happily buy the Skylake if we found it on sale at a discount.
We have to assume that Razer will update the Blade when the 8th Gen Intel Coffee Lake CPU comes down the pipe, however we see no reason to think this will require a major change to the hardware. Give or take, one way or the other, Razer Blade is the definitive 14-inch laptop for 2017.
Razer Blade (Kaby Lake Core i7) – Product details HERE
Price £1,799.99
Buy link: HERE (change the drop down for the different configurations and prices) (£1,800-£2,670)
Discuss on the Facebook page HERE
Pros:
The IPS screen is excellent.
Aluminium chassis looks superb and feels amazing.
GTX 1060 graphics drive games along.
Keyboard illumination works very well.
Glass touch pad is good.
Cons:
The hinge cover is plastic.
Keyboard illumination doesn't show the secondary functions.
RAM chips are soldered on motherboard so memory cannot be upgraded.
Mouse buttons are rather small.
KitGuru says:  The latest Razer Blade with Kaby Lake is epic!