It looks like HP is looking to take on the Razer Blade with its new gaming notebook, 'The Omen'. The slimline gaming notebook is purpose built, featuring a 15.6 Inch 1080p display, an Intel Core i7 CPU and a discrete Nvidia GPU packed in to a 19.9mm thick frame.
Much like the similarly spec'd Acer laptop, which we saw revealed yesterday, HP's upcoming model will start at $1499.99. According to HP, the company took great care when designing the layout and chassis to optimize thermal performance, after all, packing so much power in to such a small package isn't always an easy task. The Omen pulls in air from the top of the machine and pushes it out of the back, allowing the Core i7 CPU to run at full speed. HP also claims that due to its thermal design, this laptop will perform better than other models featuring the same parts due to being able to achieve boost clocks for extended periods of time.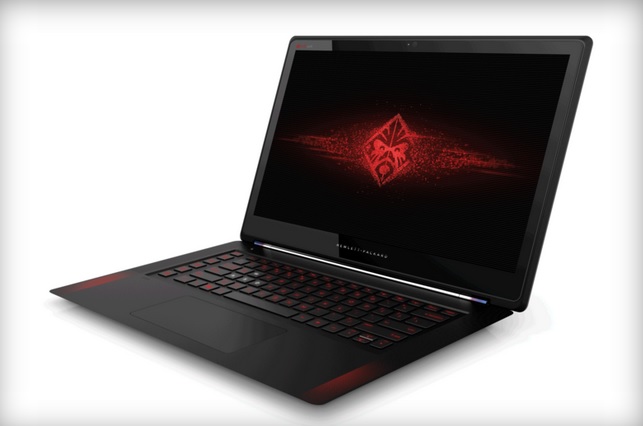 The laptop frame is made from machined aluminium, which has been anodized with a matte black finish. As you can see, HP is sticking to the red and black color scheme, which continues to be popular among gaming enthusiasts.
HP went with a 1080p panel to strike a balance between optimal resolution and frame rate, considering the GPU inside is an Nvidia GTX 860M, sticking to 1080p seems like a smart move. It's not clear exactly which Intel  Core i7 this laptop utilizes but we do know that other specifications include a 128GB SSD and 8GB of RAM.
Like with most laptops, there is a tier system, you can buy configurations featuring more SSD space, more RAM and a more powerful GPU.
Discuss on our Facebook page, HERE.
KitGuru Says: That's a pretty good looking laptop, I must say, I do enjoy seeing all of these super portable gaming notebooks coming out. A 1080p screen definitely seems like the right choice given the limited power of the GPU as well. What do you guys think of HP's newly designed gaming laptop?
Source: The Verge