Apple revealed screen resolutions of its upcoming Apple Watch timepieces to software developers in the WatchKit SDK [software development kit] that was released this week as part of the iOS 8.2 SDK beta. Both 38mm and 42mm versions of the company's smart-watches will feature retina-class displays, but with different resolutions.
The smaller 38mm version of Apple Watch will feature 272*340 display resolution, whereas the larger flavor will sport 312*390 screen resolution, according to MacRumours. The displays feature 4:5 aspect ratio, but their sizes are still unclear (yet, approximate screen sizes can be guessed). It is noteworthy that pixel density of Apple Watch's displays is not particularly high. If the diagonal of the 42mm Watch's screen is 2" – 2.1", then the pixel density of the display will be around 250 – 240ppi, which is below that of the iPad's display (263ppi).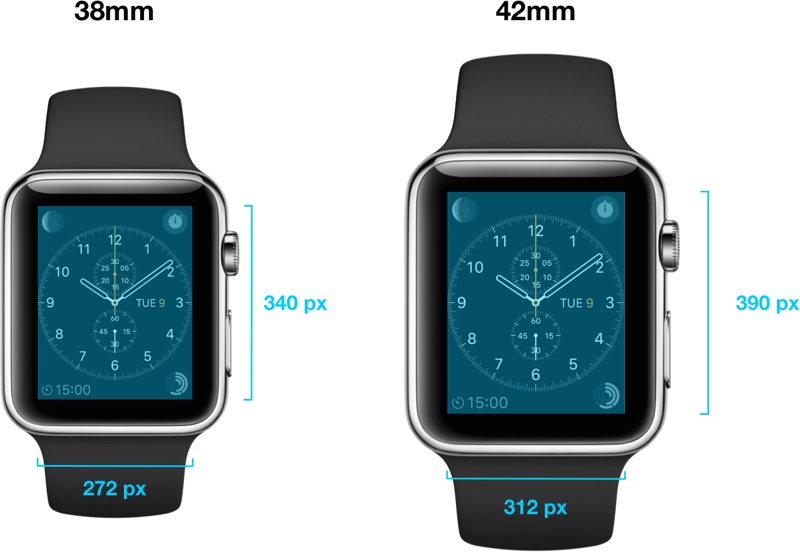 For example, software developers are allowed to use the same icons and image assets on different types of Apple Watch, provided that they "look good on both screen sizes." The content displayed on different versions of the timepieces "should be the same regardless of the device's screen size."
Among the recommendations, Apple gives to programmers is the suggestion that the content for Apple Watch should be tailored for usage model of the device. Apple expects users to access micro-apps for its smartwatch "briefly, frequently, and on a small display," which is why all the possible interactions should be very simple and "accessible and dismissible quickly and easily, for both privacy and usability."
Apple also notes that Apple Watch was designed to "blur the boundaries between physical object and software" through the Digital Crown navigation tool, the Taptic Engine for subtle alerts, and Force Touch, an innovative touch control system. Attentive design of applications "should contribute to this experience of hardware and software feeling indistinguishable."
Apple Watch devices are expected to hit the market in the first half of 2015. The most affordable version – Apple Watch Sport – will cost $349 in the U.S., whereas more advanced versions made of 316L stainless steel (Apple Watch collection) or 18-karat gold (Apple Watch Edition collection) are projected to cost starting from $1000 and $5000, respectively.
The iOS 8.2 SDK beta including WatchKit is available immediately for iOS Developer Program members at developer.apple.com/watchkit. The WatchKit site includes programming guides, human interface guidelines, templates and more. Starting later next year, developers will be able to create fully native apps for Apple Watch.
Apple did not comment on the news-story.
Discuss on our Facebook page, HERE.
KitGuru Says: If Apple's 42mm Watch has 2" display and ~240ppi pixel density, then its screen will look somewhat more blurry compared to the display of Samsung Gear S (2", 360*480, 300ppi), not exactly a good thing. On the other hand, Apple's first-generation devices traditionally have a number of drawbacks that are fixed in the following generations of products.