Samsung Electronics has introduced its all-new solid-state drives based on the latest TLC 3D V-NAND flash memory for enterprises. The SSDs provide unprecedented levels of performance, capacity, endurance and reliability, which will help Samsung to address new markets.
The new enterprise-class SSDs are based on Samsung's latest 48-layer 3D V-NAND triple-level-cell (TLC) memory and Samsung's proprietary controller and firmware. The new drives support NVMe protocol, protection against power loss as well as other advanced features required by datacentres.
The new flagship Samsung PM1725 enterprise-class solid-state drives come in half-height, half-length (HHHL) card form-factor with PCI Express 3.0 x8 interface with NVMe protocol. The drives can store 3.2TB or 6.4TB of data and provides outstanding reliability with five DWPDs (drive writes per day) for five years, which translates to writing a total of 32TBs per day during that time.
Performance levels of the Samsung PM1725 are also unprecedented: the SSDs can sequentially read data at up to 5500MB/s and write data at up to 1800MB/s. The PM1725 provides a random read speed of up to one million IOPS (input output operations per second) and writes randomly at up to 120 thousand IOPS.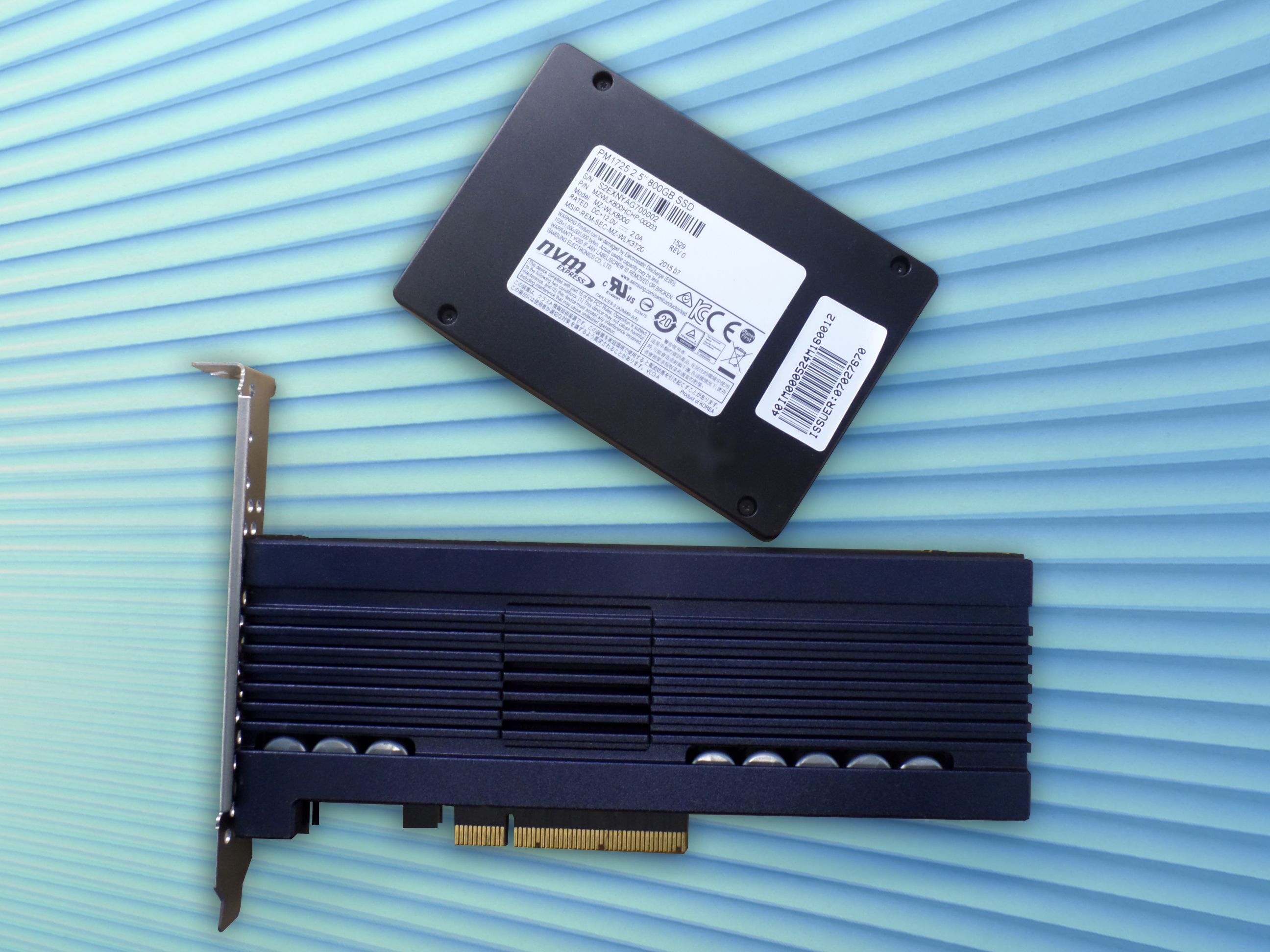 In addition, Samsung introduced PM1633 solid-state drives, which come in 2.5" form-factor and feature serial attached SCSI-12Gb/s (SAS-12Gb/s) interface. The PM1633 delivers random read and write speeds of up to 160 thousand and 18 thousand IOPS respectively, and boasts sequential read and write speeds of up to 1100MB/s and 1000MB/s. The new drives will be available in 480GB, 960GB, 1.92TB and 3.84TB versions.
"We are providing high-end capabilities and capacities for all of our latest SSDs, something we believe will elicit a high degree of interest from OEMs and computer enthusiasts throughout the world," said Jim Elliott, corporate vice president of Samsung Semiconductor. "We understand the performance needs of our customers in a rapidly expanding SSD universe and are determined to meet those needs."
Discuss on our Facebook page, HERE.
KitGuru Says: Without any doubts, Samsung's new PM1725 and PM1633 are nothing, but remarkable. What is even more impressive is that 48-layer TLC 3D V-NAND memory is among the cheapest NAND flash options in the industry. In short, Samsung has just managed to create ultra-premium SSDs using inexpensive NAND.