Phanteks brought quite a lot with it to Computex this year, including a few new cases and even some of its own liquid cooling blocks for CPUs and GPUs.
Kicking things off is the Phanteks Enthoo Elite, a big budget case for big budget builds. The Elite comes priced at around £500 and comes complete with a host of accessories. It can support up to six 360mm radiators at once but it can also support bigger sizes. The build on display at Computex has a 560mm radiator mounted in the front. Other features include built-in lighting, the ability to move panels around to suit your needs and support for dual systems, so you could have a Mini-ITX and an E-ATX build housed in the same case. There are plenty of dust filters and support for dual power supplies, or Phantek's own power splitter. It is quite the impressive list of features.
Finally, the liquid cooling hardware featured in the Enthoo Elite is Phantek's own design. Details are being finalised right now but for now there are some water blocks for CPU and GPUs, including the recently launched GTX 1080. Different fittings are almost ready but reservoirs and pumps will be the final bits to add to the line-up.
The Enthoo Elite is impressive but it wasn't the only thing on display. For instance, we got a look at the Primo DS, which now has dual system support.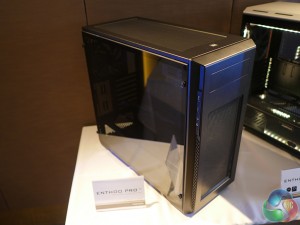 The Enthoo Pro M is getting a version with Tempered Glass, which will cost around £10 more than the Acrylic version but looks much nicer. The Evolv ATX Glass case was also on show, though we have reviewed this case already and left with positive impressions.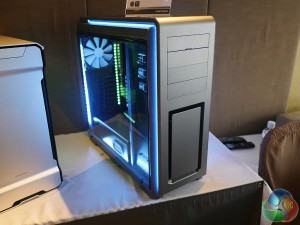 The last thing on the list is the Enthoo Luxe Glass, which is a prototype. Right now, both side panels are made of glass but we have been told that it will likely only release with the main panel in glass. The Luxe design may be a little older but it still looks great.
KitGuru Says: Phanteks has some excellent looking PC chassis' on display at Computex this year. Are any of you currently using a Phanteks case? What do you think of the new line-up?