Over the last few months, there's been plenty of talk about when the first mainstream 5G cellular networks (not counting test networks like Verizon's) would become available in the United States. So far, aside from AT&T's misleading 5G offering, there hasn't been much to report. Most of the reason for that is the fact that hardware manufacturers have been keeping a tight lid on the devices that they have been designing for the launch of 5G service, as well as the network-level hardware that they're going to need to supply to help the major carriers launch their upgraded services.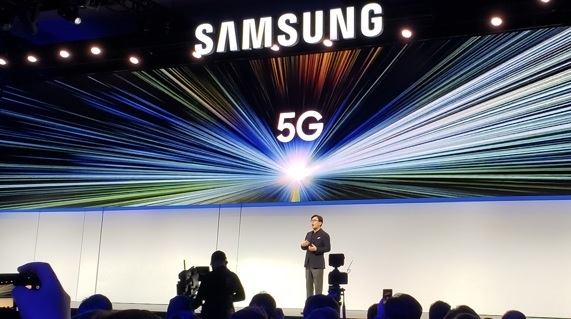 At CES, however, consumer products giant Samsung dedicated a portion of their display to the various bits of technology that they're bringing to market in the near future to support the 5G revolution. The gear on display took up a whole wall of their booth, showcasing everything from a 5G cell phone prototype to their 5G massive MIMO unit, which is designed to provide 5G service at large public gatherings like concerts and sporting events.
Before we go any further, it's important to note that the Samsung display seemed like an attempt by the company to stake a claim as an early 5G booster, rather than an effort to sell any particular product. The main tipoff to that is the fact that their 5G cell phone prototype was not made available for hands-on demonstrations. Instead, it appeared in a charging dock inside a glass case, running a video about 5G technology on a loop. Disappointing as that was to many attendees; it was still a signal that Samsung intends to stick to their plan to launch their first 5G cell phone on Verizon's network in the first quarter of 2019.
The real heart of Samsung's 5G display at CES, though, was undoubtedly the wide range of network hardware they're offering to service providers to support the rollout of the much-anticipated next-generation wireless service. The display included a detailed layout explaining how the hardware on display fit into the broader 5G landscape, from provider tower hardware to home 5G modems and mobile devices.
The first device in the lineup is Samsung's 5G access unit, which is designed to provide millimeter wave spectrum coverage to small areas, using wireless backhaul to connect to the provider's wide-scale network. It's the latest version of a critical piece of the 5G puzzle, and a variant of the devices that Verizon is already using in their 5G home broadband trial network. It's a grey, hard-shell antenna array that's roughly the size of carryon luggage which would be deployed throughout neighborhoods (think telephone poles and utility installations) to form a local 5G wireless backbone.
The next piece of the 5G puzzle is Samsung's new customer premises equipment (CPE), which includes a home base station that would function as a 5g wireless version of a cable modem in a subscriber's home. The small, stylish white box would provide WiFi internet access in a home, backed by a wireless carrier's 5G network. In acknowledgment of how difficult such service is going to be to provide in dense urban areas, Samsung also showed off an outdoor companion to the indoor box to bridge the gap into hard-to-service locations.
The outdoor companion CPE on display is essentially a signal booster for 5G networks, similar to the 4G signal boosters used today to extend cellular coverage into buildings where structural materials act to block radio wave penetration from the outside. Samsung's representatives believe that the devices will be in wide use, especially in the early days of new 5G networks in the United States, when carriers won't yet have the small cell density required to effectively service all indoor locations.
Also on display in the Samsung booth was the company's 5G Massive MIMO Unit, which is a 5G-capable multiple antenna array meant to deliver wide-area network coverage. It's the same unit that wireless carrier Sprint has been deploying in the US since 2017 as part of their current-generation network upgrades. The device is also the backbone of existing 5G service deployments in Samsung's native South Korea, and should soon become a visible part of the American landscape moving forward.
The final part of the display, as mentioned earlier, was a 5G prototype smartphone billed as a representative example of what Samsung will be bringing to the market within the next few months. Details-wise, their display offered no new information, and the device itself appeared to be wrapped in a protective case meant to obscure the handset's design (much like Samsung's foldable phone reveal in November). It felt very much like a placeholder that served to remind the world that Samsung has some 5G devices in the pipeline, but little else.
The bottom line on Samsung's 5G CES display is that the company appears to be betting heavily on 5G technologies, but that its infrastructure products are far more developed than any consumer technology they're planning. For smartphone owners, that means it's not yet time to sell your existing phone in anticipation of the next generation of wireless technology on the way. Overall, however, the lineup of 5G tech all but guarantees that Samsung will keep their promise to roll out 5G-capable phones, which they're expected to do next month. After all, Samsung's not helping carriers to build out their new networks for nothing – so stay tuned for more announcements from Samsung very soon.