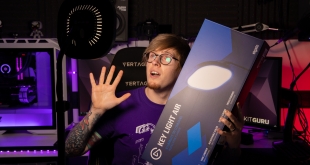 If you're a streamer then you've probably heard the name Elgato, if not… how? Today we're checking out something that can entirely change your streaming quality from mediocre to epic. What is it you ask? A light… "A light? Pffft that's hardly going to improve anything!" Well, you're wrong and you better stick around to find out why! This light even has Wi-Fi built into it…
Watch via our Vimeo Channel (Below) or over on YouTube at 2160p HERE
Specifications:
Brightness: 1400 Lumens, adjustable
Colour range: 2900 – 7000K, adjustable
CRI: > 92%
Power consumption: up to 25W
Connections: Wi-Fi, 802.11 b, g, n
Supported encryptions: WPA/WPA 2
Dimensions: 205 x 205 x 35mm
Weight: 550g
Included base and stand
Base dimensions: 205 x 205 x 18 mm
Weight: 1000g
Adjustable telescopic pole
Adjustable length: 60 – 88cm
¼-inch mount
Works with: Windows 10 64-bit/macOS 10.14 or newer/ Android 6.0 or newer/ iOS 12.1 or newer/ Elgato Stream Deck/Elgato Multi Mount
You can purchase the Elgato Key Light Air from Overclockers UK for £129.95, HERE!
Discuss on our Facebook page HERE.
Pros:
Heavily diffused for great lighting and minimal eye strain.
Included adjustable stand with cable routing options.
¼-inch screw mount means you can mount it to almost anything.
Huge adjustable colour range scope.
Adjustable brightness.
Control Centre software works very well for mobile and desktop.
Small form factor makes it save space.
Tool-free assembly of the stand.
Cons:
High price point.
3D Swivel mount has very limited movement and adjustability.
Paint wears instantly within the swivel mechanism.
Not ideal for greenscreen keying.
KitGuru says: Overall, we're impressed with the features and functions of the Key Light Air, it's well designed, a perfect size and comes with everything you'd need to step up your game. Our biggest concern is still the price but if you can afford one and want the ease of use then we do recommend the Elgato Key Light Air.
Be sure to check out our sponsors store EKWB here