The team behind the BLOODHOUND SSC land speed record attempt are out in Hakskeen Pan in South Africa, at the dessert test track, making sure that all of the communications systems for the attempt are in order. To do this they had to setup a bespoke 4G LTE network to handle all of the data. And there will be a LOT of data coming from the Supersonic Car.
Generally you need a pretty specialised radio link if you plan to transmit large amounts of data while going pretty fast, as anyone who watches Formula 1 races will know, even a single camera stream can be difficult to reliably maintain while speeding down a track. For this reason the team have chosen a 4G LTE (Long-Term Evolution) network. 4G networks for instance have a far better downstream data rate than 3G networks when traveling at high speeds (over 100mph) and with this specialised setup on site they should be able to do the job.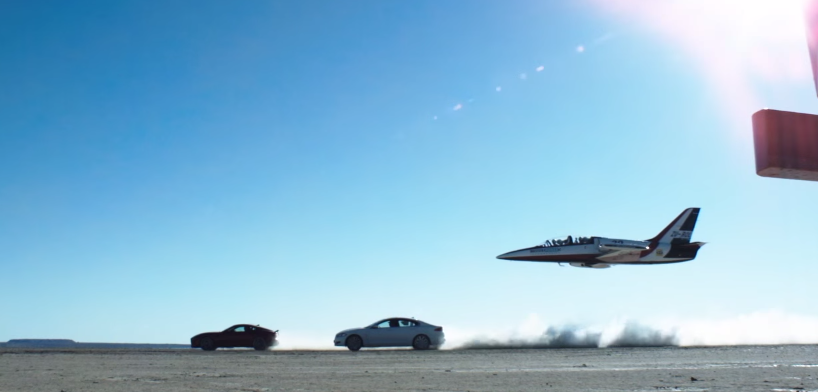 To test their equipment they drove a Jaguar F-TYPE towards an oncoming L39 jet aircraft at closing speeds of up to 650mph, to try and simulate the conditions that they will experience with the actual test vehicle. The amount of data that has to be transmitted from the 1000mph vehicle is pretty large, as they explain on their blog, "Data from over 300 sensors, plus three streams of 720p video, will be transmitted live via single channel from the jet and rocket powered vehicle as it blasts down the desert racetrack during the test. By way of comparison, a modern F1 car transmits 150 channels of data over a single radio channel".
[yframe url='https://www.youtube.com/watch?v=9ocGJyso1-o']
The network they have setup should be capable of transmitting 4 Megabytes per second of data while the rocket powered car is travelling at a speed of a mile every 3.6 seconds (thats 4.5 football pitches laid end to end per second!). We will find out for sure when they start their first tests with the BLOODHOUND vehicle this summer, after it is finished being built at the Technical Centre in Bristol, UK.
Discuss on our Facebook page, HERE.
KitGuru Says: I would have imagined that traditional communications systems are not really designed to transmit data reliably when travelling faster than a few hundred miles per hour, so it's good to hear that they are basically using regular old 4G for this. The actual attempt is still a long way off but I can't wait to see how they do.
Source: Bloodhound SSC blog
Image: Bloodhound SSC Youtube