The miniature flying camera drone, AirSelfie, is now available for pre-order, following a complete set up of the production line. Kickstarter pledges are set to ship out in March this year, with those pre-ordering the device now, slated to receive their's by May.
AirSelfie is a miniature drone equipped with a 5MP camera and enough power in its quad-rotors to be able to fly up to 20 metres in the air. It drew a lot of attention when it hit Kickstarter in November last year and garnered over 570,000 euros (£483,000) in its short crowd funding campaign. This represents a quick turnaround on investment, as Kickstarter campaigns are known for often taking far longer to deliver on their promises.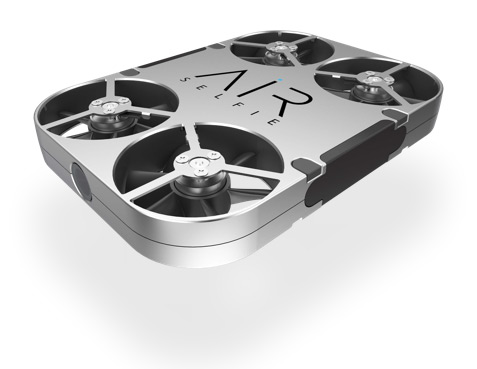 Housed within an expanded battery pack phone case, the AirSelfie is small enough to sit alongside your phone and can be removed and used as and when you need it. The idea is that when you want to take a selfie, instead of holding your phone at arms length or using some sort of stick, you can send the miniature drone off and it will turn and take a picture of you and your pals from an appropriate distance. Controllable with your phone, you can help it take the perfect shot.
Weighing in at just 52g, the AirSelfie uses four, turbo-fan propellers with brushless motors which are safe to grab while in operation and it's built from "aeronautical grade," anodised aluminium, so should be reasonably tough if it ends up banging into anything.
Compatible with the iPhone 6/6S, iPhone 7/7 Plus, Samsung Galaxy S7 Edge, Huawei P9 and Google Pixel, the AirSelfie is available for pre-order now, starting at 250 euros (£212).
Discuss on our Facebook page, HERE.
KitGuru Says: As much as the trailer may look like a typical American infomercial, where simple tasks are shown to be far more complex than they really are, this does seem like quite a neat idea. That case is a little chunky though.