Despite the two wheeled 'hoverboards' being one of the more recent boom and bust industries in the tech world, with bans and warnings of dangerous batteries, companies are still iterating on the idea. Are they allowed to though? One Chinese manufacturer has had its CES booth raided by U.S. marshals and their marketing material removed, after a patent infringement claim was filed.
The company in question, Changzhou First International Trade was showing off its design for a "surfing electric scooter." It's just as self balancing and self locomoting as the other board designs that are similar to it, but that turns out to be the problem: it's too similar.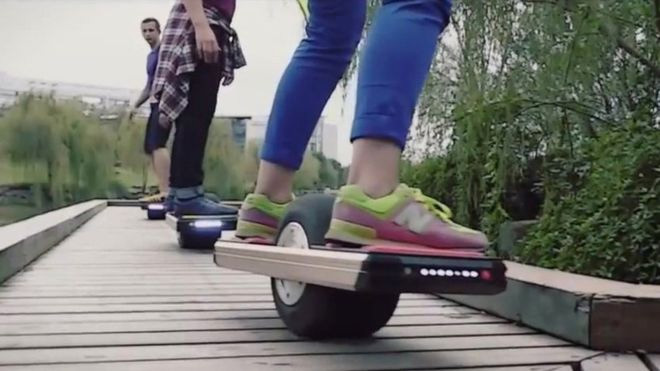 Source: Changzhou First
Although it features additional LEDs and a new plastic housing, Future Motion, the company behind the OneWheel 'hoverboard' has filed a patent infringement claim and has managed to secure a seizure order against Changzhou, which saw the company's CES booth stripped of just about everything.
While there are many two wheeled designs of these sorts of self-balance boards, the OneWheel is a unique design and there are several utility patents that protect it. Future Motion wasn't keen to let that slip.
"When we got word that a company was exhibiting a knock-off product, we engaged in the formal process, which involved sending a cease and desist letter and then getting a restraining order, which was then enforced by the US marshals," said Future Motion founder, Kyle Doerksen (via BBC).
"As a company that launched ourselves at CES two years ago, we know that the world is watching."
Consider too that the Changzhou alternative sells for around a third of the price of a OneWheel, and you can understand why Future Motion was so keen to have the alternative stamped out. While it may end up being able to block sales of the surfing scooter in the U.S. though, Future Motion will need other patents entirely – in China – to halt its manufacture.
It has filed for them however and is awaiting the results.
Discuss on our Facebook page, HERE.
KitGuru Says: The fact that the Chinese alternative is a third of the price should tell you it's not a great product too. There might be some viable cost cutting, but the battery will be of a much lower quality and that's where problems with overheating and exploding have occurred with other 'hoverboards.'