Edward Snowden has made an appearance at this year's Consumer Electronics Show. Not, as you might expect, in person, but on a display with its own locomotion, looking rather like the meeting room in Demolition Man. The technology was really important, Snowden said, because it allowed him to talk at an event that had he been present at, would have seen him arrested. "They can't arrest a robot."
Snowden currently resides somewhere in Russia, where he's been granted asylum in order to avoid being arrested for releasing documents he stole during his time as a contractor with the NSA. Those documents have detailed mass surveillance by governments around the world, intelligence agency hacking and other invasions of people's privacy.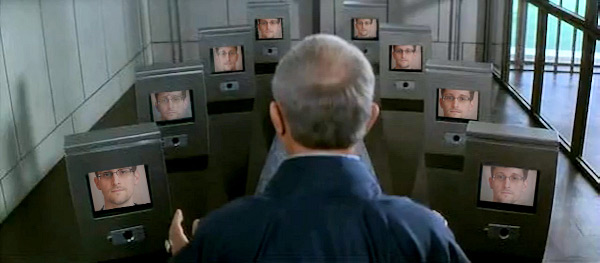 However has has continued to make appearances like this one at CES, where he discussed how the "power of technology" was allowing him to be somewhere he otherwise couldn't be. He previously talked at a TED conference in 2014. He used the Suitable Beam, mobile display system then too, so its at that booth he could be found at this year's CES, just hanging out (as per The Guardian).
Snowden is said to have checked out some of the technology on show and said that he thought much of its was very promising, but wanted everyone to make sure that they took security into consideration.
Discuss on our Facebook page, HERE.
KitGuru Says: If only the U.S. had a cop that had spent 36 years learning knitting, they'd catch Snowden in a heart beat.