As much as solar power might offer one of the most sustainable futures for our energy needs, its efficiency means that it can often take up a lot of space – that's a problem for a little country like the UK. One solution though, could be to put panels atop water sources, and that's what's happening in London right now. A reservoir there is now home to the largest floating solar farm in Europe.
Made from more than 23,000 solar panels at a cost of just shy of £6 million, the floating power plant will be capable of delivering up to 6.3 megawatts of power when it's completed sometime in the next couple of weeks. Despite is monstrous size though, the solar farm will only cover six per cent of the reservoir it calls home.
The reservoir in question is the Queen Elizabeth II, located on the Walton on Thames. It covers 317 acres and is one of the largest reservoirs in London, holding more than 20 million litres of water. Despite its size however, the reservoir is walled in by raised banks, which means that the solar farm will be almost invisible to London's residents, which avoids any potential issues with locals complaining of it as an eye sore.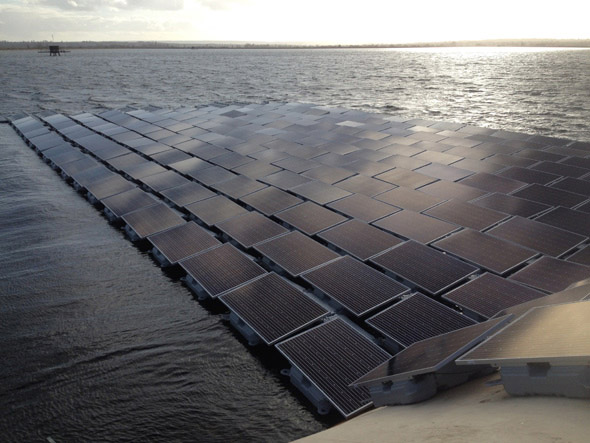 Source: Thames Water
Power from the plant could, according to the Solar Energy Industries Association, power just over 1,000 homes, but that's not what this farm is for. The solar panels will instead be used to provide energy for a nearby water treatment plant.
This is part of the Thames Water company attempt to generate more of its own power (as per Ars). The addition of the QEII reservoir solar farm brings its total solar installations to 41, making a big impact on offsetting its energy usage. It hopes to provide a third of its own power by renewable energy by 2020.
This comes at a time when the British government is cutting subsidies for various renewable energy solutions.
Discuss on our Facebook page, HERE.
KitGuru Says: Good to see companies taking advantage of opportunities to improve their energy efficiency – especially considering how disinterested the government is in similar schemes.