Amazon garnered headlines recently for its teasing of drone deliveries to those that live close to its distribution centres, giving people the chance for same day deliveries without leaving their homes. However that's not the only aspect of its business that the retailer is looking to renovate with robotics, as it's also adding them to its warehouses.
The little bots in question, that look like oversized orange Roombas, are called Kivas and they travel around the warehouse, slotting themselves underneath shelving units, before lifting them up and carting them to another part of the facility. Amazon currently has as many as 15,000 of these bots working at 10 of its main distribution centres around the world. They can each carry upwards of 300KG, making them far stronger than your average human and faster than one equipped with a forklift.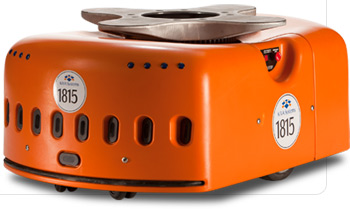 That speed is making the process from shelf to package much quicker, which is so incredibly important during busy periods like the one leading up to Christmas. In some instances, Amazon has been able to have a product packaged less than a quarter of an hour after an order had been placed.
Without wages to supplement too, they're a lot cheaper. Senior VP of operations at Amazon, Dave Clark, said (via The Guardian) that the Kiva robots had helped cut costs at one facility by as much as 20 per cent.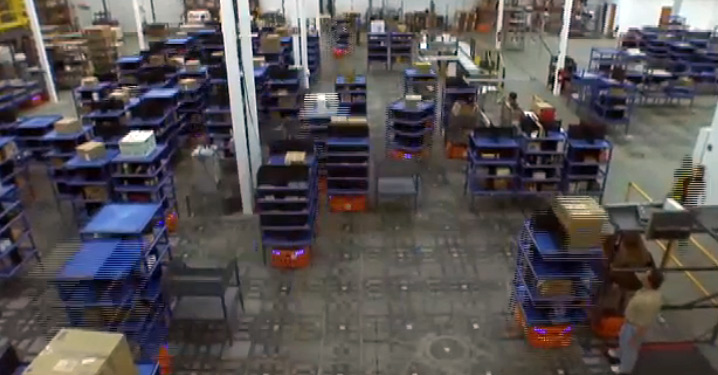 All of those orange blocks are Kivas hard at work ferrying shelving around
Amazon didn't just buy these robots from some manufacturer however. It actually bought out the developer, Kiva Systems back in 2012 for three quarters of a billion dollars. It's since spent upwards of $50 million installing the robots, but even with all this expenditure the higher ups are very pleased with the progress the automatons are making.
Unlike other industries however, which are wary of robotics as they can and have replaced jobs of less skilled employees, Amazon has stated that it sees them as another growth phase for the company. As it changes the way it does things, it will need people to maintain the robots and as it becomes a bigger and faster retailer, it needs more people to package products than ever before.
Of course then again, Amazon doesn't have a great history of treating its employees well. It's known to give them lonely positions in giant warehouses, make them work in environments that are far too hot and offer only basic pay packets.
Discuss on our Facebook page, HERE.
KitGuru Says: But the robots don't complain about any of that do they?
Image sources: Kiva Systems