Not perturbed by the fact that his Internet MANA party efforts in New Zealand failed to earn a seat in Parliament during the last general election, internet entrepreneur Kim Dotcom has announced his intention to bring the organisation to America, with plans to launch the Internet Party USA in 2015.
Making the announcement via Twitter as usual, Dotcom stated yesterday after news that he'd been cleared of claims that he'd breached his bail: "The Internet Party is coming to the United States in 2015. Stay tuned for our celebrity founders from the music, film and Internet industry."
He also stated that in 2016 the Internet Party USA would be the worst nightmare for Hilary, referencing Mrs Clinton, who has been cited as a potential democratic candidate after President Obama's second term.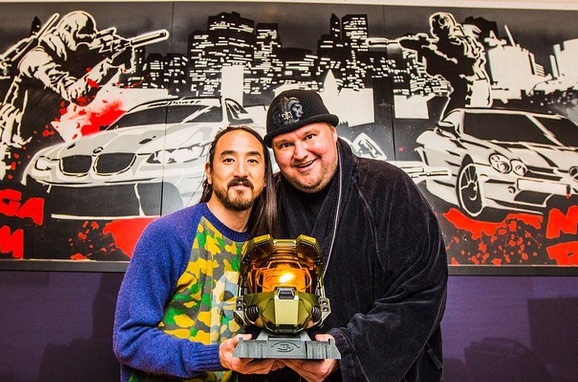 Meanwhile Dotcom has been pictured hanging out with musicians like Skrillex and Steve Aoki
Dotcom later tweeted out more details of the party, stating that it would be run by US Citizens and that his only role would be in public relations. Much of his involvement however will be dependant on how well his extradition trial – now pushed back to summer 2015 – goes. If he is deported to the US, he will likely be remanded in custody, however even if he wins and is allowed to stay in New Zealand, travelling to the US wouldn't be a smart plan.
Dotcom does know PR though. That's something he's very good at, as well as getting attention.
[yframe url='http://www.youtube.com/watch?v=o0Wvn-9BXVc']
The Mega Song featured a lot of well known musicians and celebrities
Funding will be a little harder, as the big parties spent hundreds of millions of dollars on their campaigns. Comparatively, Dotcom was said to have raised $4 million NZ for Internet MANA. Most of that however came from his personal fortunes, which are drastically reduced from what they once were.
Discuss on our Facebook page, HERE.
KitGuru Says: How do you guys think the Internet Party will fare in the US? Pirate Parties have grown in influence throughout Europe in recent years, so maybe the Internet Party has a shot of making an impact. With the next election not until 2016, there's a bit more time to work with too.
Image source: Steve Aoki