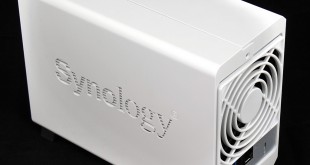 Synology's latest two-bay NAS is the DS215j. This model looks very similar to the DS214 and shares almost all of the features, except for the loss of one USB 3.0 port (you get one USB 3.0 and one USB 2.0) and a reduction in processor speed. The DS214 uses a dual core 1.066GHz Marvell while the new DS215j has a dual core Marvell running at 800MHz.
You may recall the J suffix on the model code stands for 'lower performance', although Synology might claim it means better value, in which case they have a point as the DS214 sells for £215 while the DS215j is significantly cheaper at £160.
Watch via our VIMEO Channel (below) on over on YOUTUBE
Highlighted features
CPU Marvell Armada 375 dual core 800MHz with floating point.
Memory 512MB DDR3.
Hard drives 3.5-inch or 2.5-inch in two drive bays.
Capacity Up to 12TB (depending on drives).
External ports One USB 3.0, one USB 2.0.
LAN Gigabit.
Claimed Max Read speed over 111.41MBps.
Claimed Max Write speed over 87.49 MBps.
Synology DSM 5.1 software.
Installing the two WD 6TB Red drives used for testing was simple enough. Pop open the casing, slide in the drives, secure them in place (Synology supplies spare screws), close the case, connect power and Ethernet and you're ready.

Using the URL find.synology.com starts the installation wizard and as the two hard drives had previously been used in another NAS we were offered migration choices you would not otherwise see.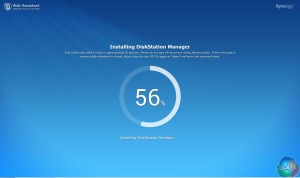 Installing the latest DSM 5.1 software is a simple matter of clicking and waiting for a few minutes.

Curiously, once DSM was installed, the NAS appeared to vanish from the network. This wasn't something we had seen before and had to download and install the Synology Assistant utility which worked as described.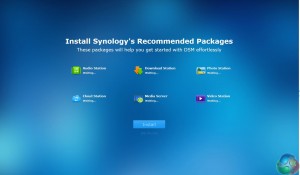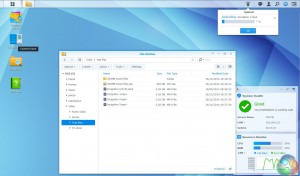 Once the NAS had been found again we were able to download and install packages from Synology and could take a look at DSM 5.1 which looks similar to DSM 5.0 as it is a fairly minor point release.
Testing
The DS215j performed as expected when we downloaded movie files and saw a transfer speed of 90.4MBps. On the other hand when you download multiple files the Synology zips them together in a single archive and this slows the speed dramatically to 34.1MBps.
Uploading files is a different process as the files flow in a stream one after the other and here we saw consistent speeds in the range 40MBps to 44MBps, regardless of file size.
It is hard to see how this variance in speed can be due to a small decrease in processor speed so your reviewer's instinct is that this is a quirk of the DSM 5.1 software.

Copying a video file from a USB 3.0 flash drive to the NAS runs at 45-49MBps. The same file over USB 2.0 transfers at 25-28MBps. Copying a file within the array on the NAS runs at 40-65MBps.
Noise
Noise levels were very low as the WD Red drives are whisper-quiet and the 92mm fan on the Synology is barely audible.
Closing thoughts
Synology has delivered a very cheap two bay NAS in the DS215j. The slower processor (compared to the DS214) has little obvious impact on performance and the inclusion of USB 3.0 is welcome. On the other hand it would be preferable to have both USB ports to the 3.0 standard, rather than one of each. You can pick up the Synology DS215j for around £160 inc vat online, without drives.
Discuss on our Facebook page, over HERE.
Pros
Low price
DSM 5.1 software
Synology Package Centre hosts more software
Quiet operation
Cons
Downloading multiple files slow performance
Only one USB 3.0 port
KitGuru says: The DS215j offers a cheapish way of introducing a Synology NAS to your home or small office and the results are impressive.