There's a lot of nonsense prediction engines that show up during big sporting events, usually animal based. Whether it's an elephant eating this over that, or an octopus that goes for that fish over this one, it's all pretty random and any real correct predictions are likely based on the luck of a 50/50 choice. However, can the same be said for Microsoft's digital assistant Cortana? Or at least, the Bing prediction engine behind her, which has drummed up 14 correct predictions in a row for the final rounds of the World Cup.
With Argentina's victory over The Netherlands, the Bing engine tallied up another correct prediction, continuing on from its originally quite controversial decision that Brazil would lose to Germany. However it didn't predict such a drubbing as was dished out by the East European side, as Cortana won't be drawn on scores, merely predicting the overall outcome.
So who does Cortana think will win the world cup overall? Germany.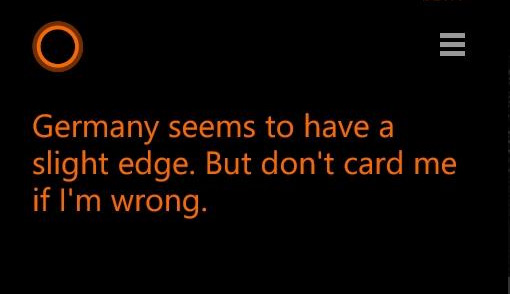 You can only check out the live prediction yourself if you're based in the US unfortunately, as that seems to be where the prediction tool is being trialled. Attempting to visit it from the UK, tells you that it isn't available in my region yet.
Proxies are a possibility of course, but then again, the easiest way is just to keep an eye on the Twitter feed of Marcus Ash, group manager for Cortana on Windows Phone, as he's been tweeting Cortana predictions like a proud dad.
Bing/Cortana comes up with its predictions using a variety of statistics. It takes into account previous win/loss ratios of teams and individual players, home field advantage, playing surface, game-time weather conditions and predictions from betting outlets.
Discuss on our Facebook page, HERE.
KitGuru Says: This is quite an impressive achievement. Could analytical predictions like this cause problems for competitions like the World Cup in the future? What if it reaches a point one day where all sporting outcomes are determined before anyone even steps on the field?
Image Source: Sudharsen