In case you hadn't heard, Cliff Blezinski, one of the minds behind the development of Unreal Tournament and the Gears of War franchise at Epic Games, has a new gig. He's opened his own studio, Boss Key Productions and he's making a free to play, PC arena shooter, set to be published by Nexon. However before coming to that decision, he met with many big names out there, including Zynga and he's been talking about it in a Reddit AMA.
This was all early days though, as soon after Blezinski announced his leaving Epic was when people began courting him.
"After I left Epic I felt like the belle of the ball, EVERYONE wanted to meet with me when to be honest I just needed time off," he said. While Nexon was apparently way up there from the earliest dealings with Blezinski's agent, he, "met with nearly all of the old guard. Even Zynga. (Mark Pincus came into my meeting 45 minutes late.)"
Nexon however may seem like an odd choice to take, when Cliff had the chance to work with the likes of Microsoft, EA, Ubisoft or any of the other giant names out there, but as he explained, he also met with a lot of developers that worked with these publishing houses. One by one, they all said don't work with X, or Y, because they'll try and take over the game. Nexon on the other hand, left a much better impression and there were little to no naysayers.
"And then I met Min Kim, president of Nexon US. And then Owen Mahoney, who runs all of Nexon," Blezinski said. "And I saw the direction they were going – Brian Reynold's new game, Robotaki's one, Splash Damage etc… and I spoke with all of these western devs who are working with them.
"They all had glowing things to say about working with Nexon… When your developer friends vouch for a publishing partner like that, you trust them."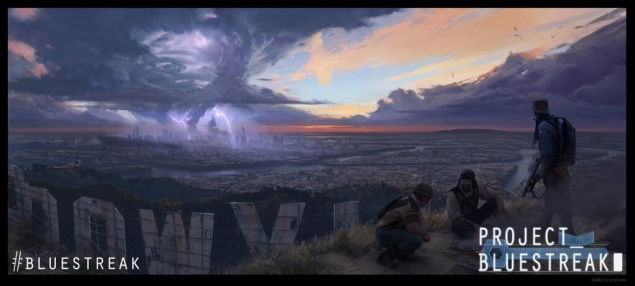 The first official concept art for the game
We don't know a lot about the game itself yet, other than the snippets of what Blezinski has told us. He doesn't want it to be pay to win and there's plans for unique characters, rather than just the heavily muscled types found in Gears of War and other contemporary shooters.
Discuss on our Facebook page, HERE.
KitGuru Says: Are you guys liking the sound of Bluestreak so far? It's too early to really tell, but it will certainly be a test to see if Cliff still "has it," in terms of development skills.