There wasn't really much doubt that Tim Schafer's seminal Grim Fandango wouldn't eventually hit PCs as well, when it was first announced at Sony's E3 conference as an upcoming PS4 remastered title. However that doesn't mean it's not nice to hear for sure, as Double Fine has now officially announced that indeed, the place that spawned the point and click adventure would welcome it home in all its HD glory. Grim Fandango HD is coming to PC too.
More than that though, it's not just hitting Windows, but MAC and Linux platforms as well.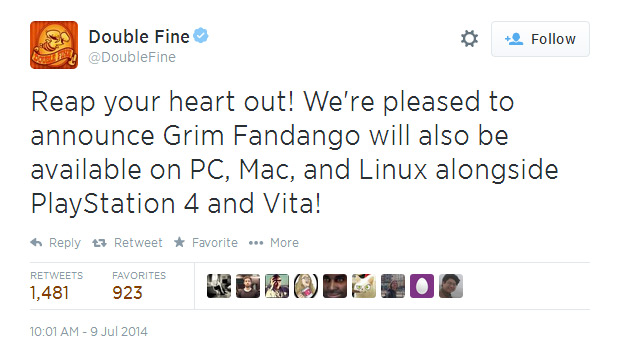 Considering how difficult Grim Fandango's original version can be to get running on modern systems, this is good news for anyone that's never played it through, or (like this writer) been frustrated by crashes to the point of giving up.
Chances are we'll get some updated and improved controls too, which considering that wasn't a strong suit of the original, probably isn't a bad thing.
Discuss on our Facebook page, HERE.
KitGuru Says: Now all we need is the remaking of my personal favourite point and click, Day of the Tentacle and I can die happy. I'd rather not of course, but my family will understand if I go to the grave having sent objects through a time travelling toilet in high definition. Probably.