For the first time in more than a decade, a company other than Boeing or Lockheed Martin will be launching American military hardware into orbit, ending a monopoly the two had created in a very lucrative industry. The company that dismantled that long-running tradition? Space X, the relatively young space faring company that has captured so many headlines in recent years.
The launch that will break this cycle of the U.S. pumping funds into those two giant corporations, is for a GPS satellite owned by the U.S. Air Force, set to take to the skies in 2018. Space X will be paid a whopping $83 million to get it done according to Reuters. Traditionally such a deal would have gone to the Lockheed and Boeing funded United Launch Alliance (ULA), but not this time.
Most impressive however, is that The ULA didn't even bid on this contract, due to issues with recent policy changes and international sanctions. NASA pledged back in 2015, that by 2019, none of its launches would utilise Russian-made engines, which unfortunately for the ULA, all of its rockets do. While the 2018 launch would slip in under the deadline, the current U.S.-Russia relations have made importing the engines it needs difficult.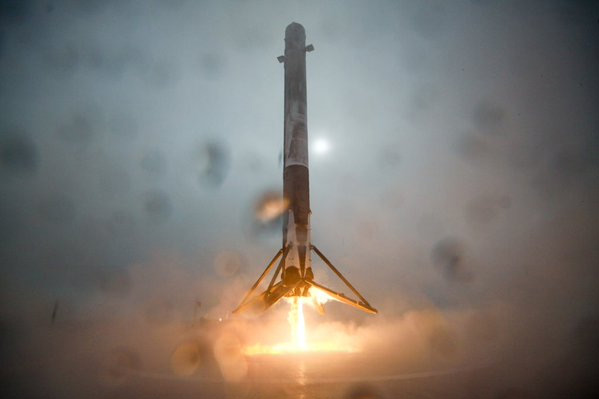 Space X recently made history by landing its Falcon 9 first-stage booster on a drone barge after launch. Source: Space X
The $83 million that Space X was awarded for this contract will cover the production of a Falcon 9 rocket – so the Air Force will not be using one of Space X's second hand boosters – launch operations, spacecraft payload integration and spaceflight certification for the entire craft.
This brings the total of contracts between NASA and Space X to over $10 billion, giving the company plenty of work for the next few years. However if it can take more on, the U.S. Air Force has said it will offer another eight contracts to commercial companies for space ventures between now and 2018.
Presumably the ULA will be more competitive on some of those other contracts, but in what guise remains to be seen.
Discuss on our Facebook page, HERE.
KitGuru Says: Good on Space X for providing an alternative to the corporate spaceflight mainstays. Offering a more affordable service can help NASA spread around its budget more evenly.