There's a lot of talk at the moment about drone delivery, with Amazon and a few other online retailers looking to see if they can utilise the stabilised aircraft to get people's orders to them in hours rather than days. However one company believes an alternative would be far more effective: underground maglev mini-trains.
This idea is the brainchild of Mole Solutions, which wants to build an underground network of electronic, magnet powered transport liness exclusively for freight and rubbish transfer. Its plan would utilise existing underground tunnel systems, retrofitted with tracks that utilise maglev technology to make it cheap to run, while having no impact on the environment.
"Clean water is taken into homes and dirty water is taken away and we never really see it, while huge amounts of oil and diesel are transported by pipes underground," Mole Solutions' Roger Miles said in a chat with the Independent. "Now we want to do something similar with freight, delivering goods to buildings and taking away waste."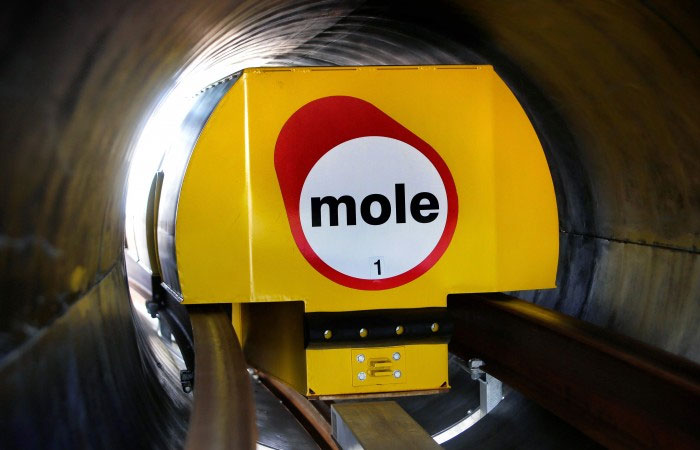 As well as making the transportation of goods faster and cheaper however, Mole Solutions believes that its technology could have a big impact on congestion. By cutting out the need for so many HGVs and courier vehicles, road networks would be far less swamped than they are now, it claims.
The plan as it stands is for the company to trial run its idea in Northampton and if all goes well, within a few years it could have a complicated network of criss-crossed tunnels under the city, allowing for the fast delivery of goods and waste to a number of hubs. So far the project has received some government funding, as well as extra money from companies that stand to be disrupted by such a system: couriers like DHL, and transport and property group Peel Holdings.
For now though, Mole Solutions is analysing the best way to utilise its funds to test the technology out. Chances are it will be in Northampton, but it will be trialled somewhere and the buzz surrounding it suggests it could be very successful.
KitGuru Says: This seems like a pretty exciting idea for transporting goods. Combine it with a robotic loading/unloading system and it could be near automated.