Getting a PC to work properly can be stressful at times and troubleshooting can be hard work, so when turning it off and on again simply won't cut it, what option do you really have left other than emptying a clip of ammo in to your desktop?
37-year-old Lucas Hinch from  Colorado simply had enough of his Dell XPS 410 desktop from 2012, so one day he decided to take it out back and put it out of its misery for good. According to the official police log "He was fed up with fighting his computer for the last several months". You can see the damage for yourself below: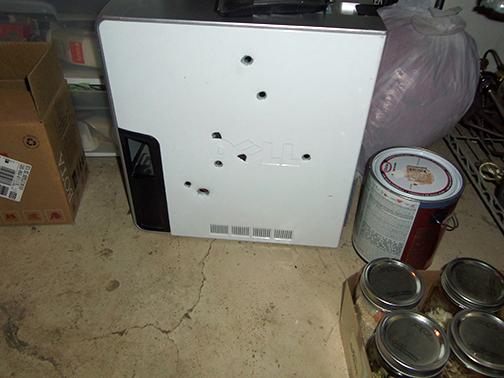 Image Source: Springs Police Twitter
Unfortunately for Hinch, it is actually illegal to discharge a firearm within city limits in the state of Colorado, so he will likely have to pay a fine. He did tell the police that he did not realize he was breaking the law at the time but a judge will still need to review the case and decide what happens next.
Discuss on our Facebook page, HERE.
KitGuru Says: For those wondering, the Dell XPS 410 is fitted with an Intel Core 2 Duo E6600, 2GB of RAM and an Nvidia GeForce 7900GS- to be fair, If I was stuck with that machine, I would probably want to shoot it as well. 
Via: NBC