As great as many action recorders are, finding a truly hands-free option that still offers all of the bells and whistles can be a little tricky. This is where ORBI is stepping in with its new Prime sunglasses, the world's first 360° video-recording eyewear, designed for outdoor enthusiasts and adventurers to capture their most exciting moments in stitched 4K resolution.
The ORBI Prime glasses have just launched on IndieGoGo with a $75,000 goal, which has almost been reached already with just $4000 left to go at the time of writing. These glasses pair up four 1080p cameras mounted discreetly along the frame, offering 30 frames per second recording and a 4K resolution when stitched together. There is space for a replaceable 128GB microSD card, built-in WiFi, AAC stereo 48KHz audio capture, a 1000 mAh battery and micro-USB charging. Right now, the recording time is rated at around 90 minutes.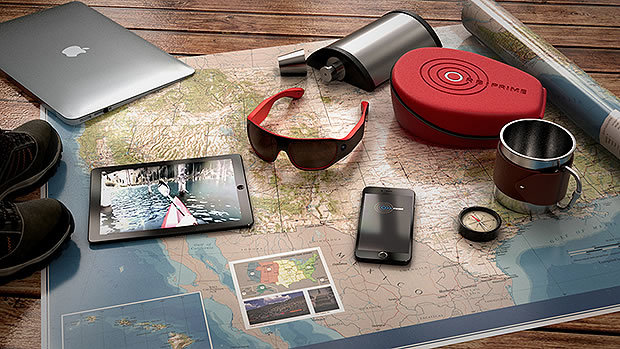 There are some other features to keep in mind, such as the UV protected polarised lenses, real-time image stabilisation and water resistant design. However, as with most crowd-funded efforts, the ORBI Prime won't be sent out for a while, with a current shipping date set for August 2017. Being the first of its kind, these glasses will also cost quite a bit with the official price being set at $499, though early backers can get it for $329 or $349 depending on just how early you are.
So how did this product come to life? Well according to ORBI co-founder and CEO, Iskander Rakhmanberdiyev, the company wanted to make something that "lets you capture your unique perspective with the world". On top of that, ORBI saw a gap in the market, as many surveyed action camera users were after a "truly hands-free and high-quality option". The ORBI Prime is designed to be sleek but incredibly powerful under the hood. Hopefully, it can live up to that when it eventually launches in 2017.
Discuss on our Facebook page, HERE.
KitGuru Says: While cameras aren't usually my strong suit, the idea of cramming all of that technology into a pair of sunglasses is incredibly interesting to me. Do any of you guys have much interest in video recording and camera setups? What do you think of ORBI's offering?