Allied Esports International and MGM Resorts International have penned a deal to create "the first permanent eSports venue" on the Las Vegas strip and promise to make it the eSports go-to venue, in much the same way Wembley and Wimbledon are for footie and tennis.
MGM has commissioned the conversion of a 30,000 square-foot (2,800 square metre) former nightclub in its Luxor Hotel & Casino (the one with the actual pyramid and sphinx), into the Strip's first permanent eSports venue, and, hopefully, the hub of big-ticket eSports events for the foreseeable future, with a promised opening as soon as early 2018.
"We have very ambitious expansion plans over the next two years, and when we realized that a location at Luxor was possible, we jumped at the opportunity to develop our flagship here," said Jud Hannigan, CEO of Allied Esports International.
The space will be kitted out with gaming stations, LED video wall, state-of-the-art streaming capabilities, telescopic seating and a production studio worthy of big name TV studios. Of course, it'll also cater to all the more mundane things we've come to expect of Las Vegas, thanks to its prime location.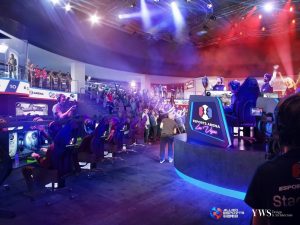 Las Vegas already holds a reputation as a showcase for major indoor sporting events – from Boxing to UFC – it only makes sense to take the next step. With this venue, Allied Esports International hopes to capitalize on the Las Vegas name and project their brand into the golden age of spectator sports.
Allied Esports International, a joint venture of some of the biggest eSports franchises across the world), says it wants to continue building up its Esports Arena brand across North America, with plans to announce 10-15 Esports Arena locations in the next few years. It's also focusing on providing professional path for eSports athletes who want to go pro and fostering the whole ecosystem which revolves around an organized sport.
KitGuru Says: Nothing quite captures the Zeitgeist of a movement like having it turned into an actual Las Vegas venue on the Strip. It seems eSports is moving into its next stage of maturity.