If you have been following KitGuru for long, then you have probably noticed that we like to keep you guys informed, whether it's the latest tech news or opportunities to get some free gear. This week, FSP and ASRock have teamed up to giveaway a bunch of power supplies, motherboards, a PC chassis and more.
We aren't involved in this particular giveaway, but we figured you may want to hear about it. Here is the prize list:
FSP Power Supply: Dagger Series 600W x2, HYPER K 600W x1, HYPER K 500W x 1, FSP550-50KPN x 2
ASRock motherboard: Fatal1ty Z270 Gaming ITX/ac x1, Fatal1ty Z270 Gaming K6 x1, Fatal1ty H270 Performance x1
FSP Case: CMT220 x1
FSP Adapter: NBH 65W x9
FSP Accessory: FSP 5200mAh Power Bank x1, USB 5V chargers x 5, Mouse pad x4, cable tie 27 sets(two in one set)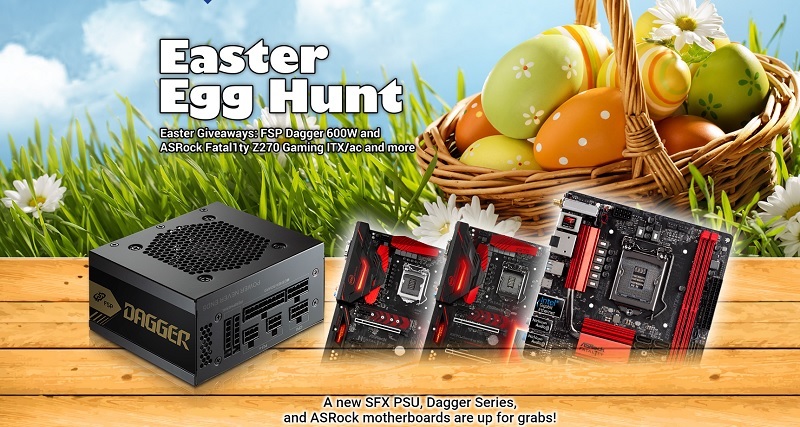 Those looking to enter need to do so between today (April 11th) and next Thursday (April 20th). Winners will then be announced on the 27th of April. So, how do you enter?
There is a three step process to this one. First, you need to head over to FSP's Dagger series page, where you will be given one minute to collect virtual easter eggs. At the end of the game, you will receive a score and be asked to leave your contact information for prize notifications. If you want to boost your score, then you can do so by liking FSP on Facebook, sharing the competition and leaving a comment.
Participants can accumulate an additional chance to take on the egg hunt every day. Head over to FSP's competition page to enter. 
KitGuru Says: This is not one of our giveaways, so please keep that in mind. Still, we wish good luck to all of our readers who choose to enter.