When trying to come up with a title for this piece, I wanted to be as accurate as possible and the above is about the best I could come up with. Yes I could have mentioned the fact that Kevin James is the President in this movie and I could have mentioned that he dresses up like a blue-aproned ghostbuster along with Sandler and a mullet wearing Peter Dinklage, but really, this is a movie about referencing things people remember.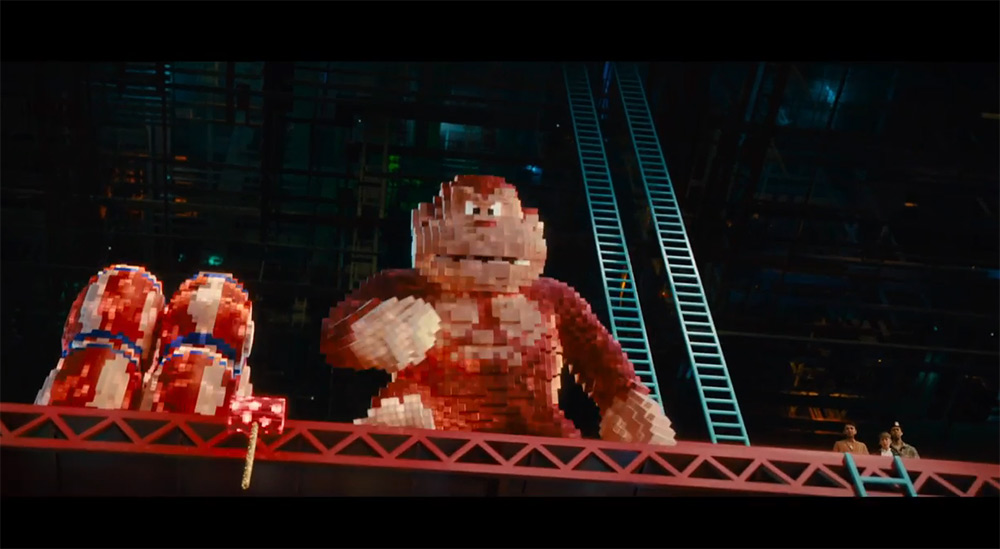 At least they put the hammer in the right spot
"Pacman's a bad guy?" says Sandler in the trailer, while we all wait for Rob Schneider to jump out and tell him he can do it. In Pixels, he's fighting video game characters from the '80s, because aliens thought our peace-loving message of harmless barrel jumping and pill eating was a declaration of war. Obviously.
[yframe url='http://www.youtube.com/watch?v=XAHprLW48no']
Based around the original 2010 short film "Pixels," by Patrick Jean – which was a great showcase of indie CGI – the Happy Madison version has Sandler and friends battling video game characters like Donkey Kong and the centipede, from Centipede, all of which inexplicitly turn everything they touch into pixels, which quickly disassemble from one another. Apparently they are incapable of keeping their pixellated form in a 3D world. Despite the different characters doing just that.
There's also a tonne of product placement in this trailer, which makes you wonder how much will be in the final film.
To cleanse your palate a little, here's the original Pixels (though cribbed from an unofficial channel, as the original's quality is not the best):
[yframe url='http://www.youtube.com/watch?v=1eCWGmF7_4g']
Discuss on our Facebook page, HERE.
KitGuru Says: I'm just surprised this didn't have Sandler as a rich guy hanging out somewhere exotic.