The new car show set to be hosted by ex-Top Gear presenters Jeremy Clarkson, Richard Hammond and James May on Amazon Prime, will be "very, very, very expensive," for Amazon, according to the company head and 15th world's richest man, Jeff Bezos. While he wouldn't confirm how much any of them had been paid, or what kind of budget they would be given, previous statements by the new show (and also ex-Top Gear) producer, Andy Wilman, have put the figure at around £160 million.
Top Gear was said to be worth around £50 million a year to the BBC, with regular viewing audiences north of five million. While Amazon's Prime service certainly has enough users to eclipse that, the fact that it's limiting the show to paying customers may mean viewing numbers are substantially lower in the initial stages of the show's life.
But this hasn't stopped Bezos and Amazon as a whole from backing it.
"They're worth a lot, and they know it," Bezos said in an interview with the Telegraph, while talking about various shows that his company had been pushing and would do so in the future. He's pretty excited about the new car showing – clearly – but didn't say whether he'd met with the presenters as of yet.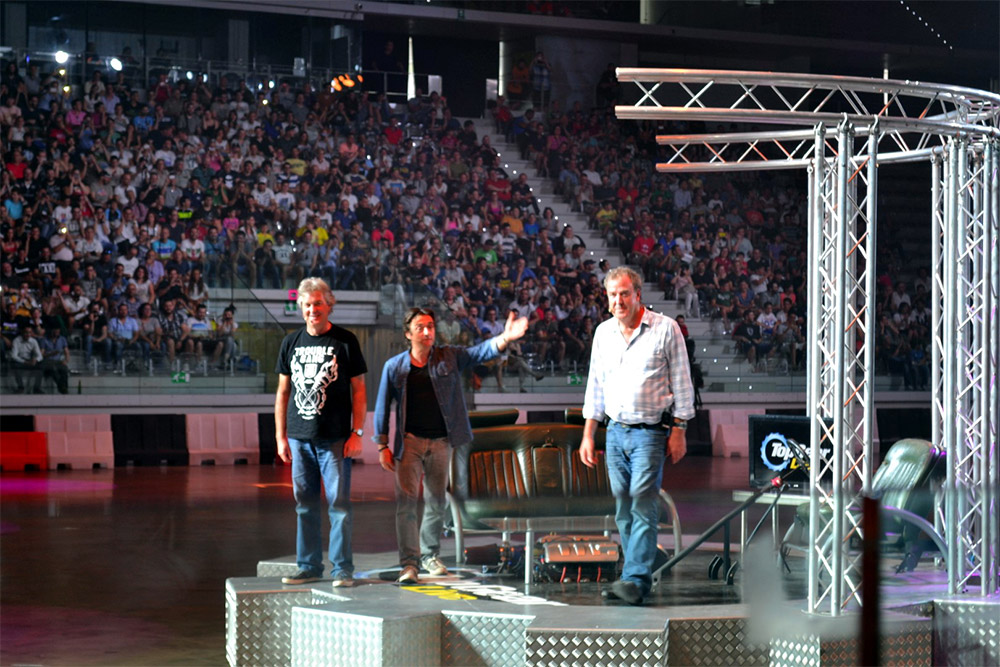 The trio have continued to honour live commitments, though named the show after themselves, rather than their old place of work
He also didn't put all his eggs in the Clarkson-led basket, suggesting that while the new show – whatever it ends up being called – is an important get for Amazon, "we're in a golden age of television," and there are many great shows that Amazon has driven forward in recent years. One of its biggest hits has been cross-dressing comedy-drama Transparent, which has won many awards since debuting in 2014.
Bezos also talked Esports in the interview, saying he and his family went to the recent DotA 2 International live show and watched all of the hotly contested games. The fact that someone so rich and powerful 'gets' Esports like that, suggests it won't be long before we see Amazon supporting it in some guise or another.
Discuss on our Facebook page, HERE.
KitGuru Say: Any Top Gear fans among you that would be willing to purchase Amazon Prime to get a look at the new show when it eventually airs?
Image source: Wikimedia