Although there are likely a number of people that have left joking or satirical reviews of products on Amazon for the purposes of humour rather than actually influencing the product's sales, those that do it maliciously or for financial gain may be at risk of legal action, as Amazon has announced that it's taking as many as 1,100 people to trial over the practice. It claims that the service these people took part in unfairly tarnished the site, using "misleading and inauthentic reviews."
The faux-review system in question was advertised on Fiverr, which had them putting up reviews for products they hadn't used for – you guessed it – $5 a piece. They had also been using multiple accounts and IP addresses to avoid detection, but still regularly set their names as "John Doe," which is what initially is said to have tipped Amazon off.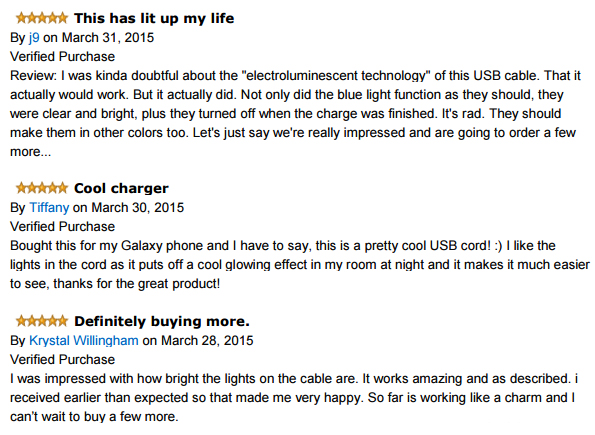 A selection of the faux-reviews cited by Amazon in the legal action
These sorts of reviews, Amazon claims, uproot the ecosystem it has created for customers to find the best products. Fiverr agrees and points out that its platform explicitly denies the sale of faux reviews, though it is not always as diligent as you would imagine Amazon would like. Amazon has attempted to help find and remove those sorts of adverts, but said that targeting the problem at its root with legal action is more likely to be effective.
The Amazon suit, filed in a court in Seattle this weekend, will also go after the site and its owners who are behind the review scheme. BuyAzonReviews.com is its home base and offers packages for as many as 100 reviews, though the cheapest they are is $19 each, which unless you're making quite a markup on your product, doesn't seem like a cheap way to go about it.
One of the products cited in the lawsuit references a USB cable that fake-reviewers claimed had 'lit up their life,' and that the LEDs on them cable were surprisingly and impressively bright.
Discuss on our Facebook page, HERE.
KitGuru Says: Having friends and family buy and review the product is one thing, but having people who have never even held or seen it before review the product feels rather underhanded.