As is often the case in this world – especially when it comes to piracy – rule makers and enforcers like to employ a "do as I say, not as I do," kind of attitude. That's no less obvious in the case of Richard Humphrey, who was sentenced to two and a half years of jail time back in 2010 for running a number of sites that distributed pirated content. He went back to jail earlier this year on other charges, but found while he was there, that the prisons were playing movies to inmates that were still in theatres and clearly hadn't been licensed. The staff were showing inmates pirated movies.
Understandably, Humphrey feels more than a little peeved that the crime that sent him to jail in the first place, is now being perpetuated by the staff of the prison he was forced to reside in.
"If people are going to prison for copyright infringement, prison mind you, where they are supposed to be paying their debt to society and rehabilitate for their crimes? How is it that the prison itself is showing pirated movies?" Humphrey said in an interview with TorrentFreak.
"Why are people even being punished and sent to prison for rehabilitation when it's clear that the system isn't able to restrain itself from the same type of activity?"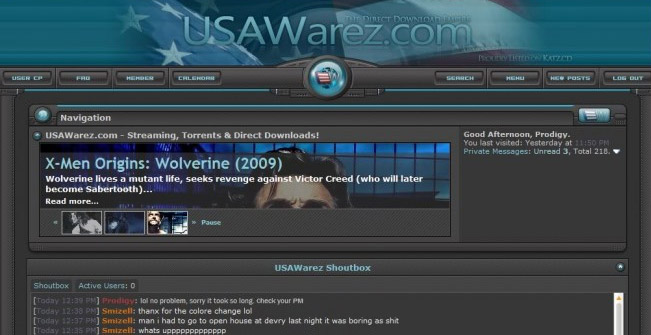 Humphrey ran several sites in his time, one of which was USAWarez.com
After being released from prison in the past few weeks, Humphrey got in touch with the warden and was told that the issue was being addressed and would continue to be addressed, until it was rectified.
As you might expect though, Humphrey doesn't necessarily think that the powers that be should crack down on this practice, despite the hypocrisy, he simply suggests that the movie studios consider the lost business. Clearly, inmates and the organisations that run prisons, want entertainment, so why not sell it to them? That way, piracy becomes useless.
KitGuru Says: It's obvious at this point that piracy pervades all parts of life. We've seen companies do it, individuals, even the US military. It's endemic and is a clear sign that the old methods of cinema releases followed by months of waiting just aren't cutting it for many any more.