There's a lot of web based and TV based scientists these days, whether it's Michio Kaku, Brian Cox, Bill Nye or others, but none of them ever did it quite like Carl Sagan, who's Cosmos series some thirty years on from its release, still holds up in many ways – even if it is a little outdated. It was his joy of science and discovery, that was so palpable, and it made you want to learn about some of the deepest topics he was discussing. In an effort to bring that kind of wonder back to the world of scientific programming, Neil Degrasse Tyson and Sagan's widow and co-writer of the original series, Ann Druyan, are rebooting Cosmos for a new generation and it's starting in just two weeks time.
Speaking about the new series' development with Wired, both Tyson and Druyan said they wanted to revive a feeling of excitement in people about science and bring them back to a place where they not only used technology in their everyday lives, but respect its abilities and even have a measure of understanding for how it works.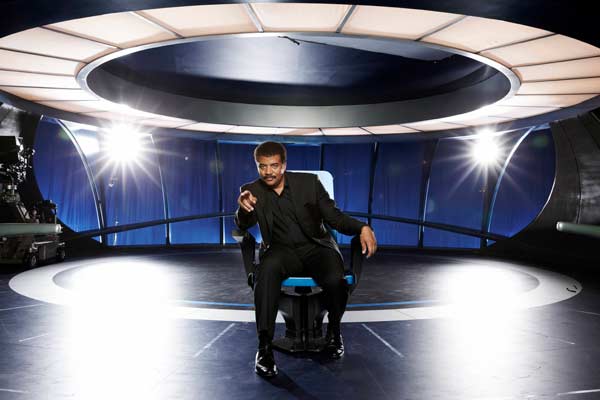 Tyson has been known in the past for his own science shows, as well as his outspoken defence of scientific endeavour
"I know it's true in the US that there's a very profound disconnect between all of us who are completely dependent on science and high technology every minute of the day," said Druyan, who went on to suggest that despite this reliance, many don't allow the other aspects of science and technology into their lives. " So we have this compartmentalised idea of science, which doesn't seem to interact with our will and Cosmos is about tearing down that wall."
Part of the message off the new series, will be to champion scientific knowledge and make it so that being learned in it isn't embarrassing. "I'd like to think in the future there'd be less tolerance for people chuckling in the corner about how low their grades were in math and science, that whether or not they got high or low grades, they would not chuckle about it," said Tyson. "I want these people to feel like maybe they should make up for that fact, by learning more science, because science is all around us."
They both believe the timing is right for the reboot though, as to them, it feels like the period of "lethargy," surrounding science and scientific endeavour is curving back the other way. "I see many different points on the curve indicating that that period is coming to an end for a while and we're very lucky to be doing this at this moment when the hunger for this kind of material is, I believe, at an all time recent high," concluded Druyan.
The first episode of the new series, titled: Cosmos: A Space-Time Odyssey, will air on Sky 1 on Sunday 16th March at 7PM. After that though, all episodes will be on National Geographic.
KitGuru: The original Cosmos was and still is, a great watch. Here's hoping they can do Mr Sagan justice with the reimagining.
As a side note, if you're in a soppy mood, the story of Druyan and Sagan's falling in love is extremely cute. And scientific!