The Open Rights Group has launched a new campaign of mockery aimed squarely at David Cameron's porn filters, with a video promoting its "Department of Dirty." In the fictional – but not far off – world portrayed, accessing anything remotely sounding like adult material is much harder and much more invasive.
[yframe url='http://www.youtube.com/watch?v=60eKauWFFPk']
It also has a brand new website for the "Department," explaining how it's "protecting people from themselves," by being cheaper and easier than just talking to them: "It's only natural that people worry about their kids, isn't it? The problem is that educating them about tricky things like relationships, pornography and hate speech costs a lot of money," it says. "Not only that, the Daily Mail don't like it and there's an election due next year. So we're all better off if we pretend we're sorting out social problems by banning the internet. Job done."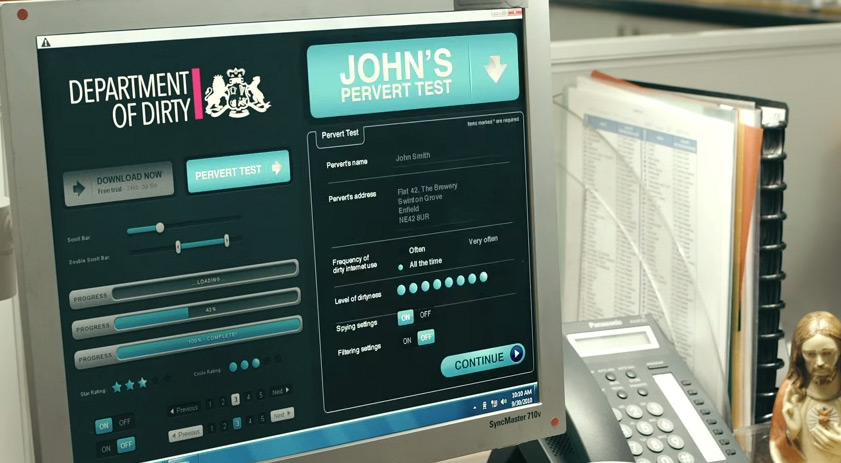 We're all perverts in our own way though, right?
The site does however drop the satire at points, explaining the current real-world filtering system that the government has put in place and how it prompts users to implement a full block on pornography in your household, whether you have children living there or not.
"If parents don't want filters, they shouldn't be guilt-tripped into switching them on. If you don't have kids, then there is absolutely no reason you should use filters," the site reads. It also encourages parents not to take David Cameron's approach to parenting and just rely on the web companies and government to do it for you. Important matters of growing up like body image, sexuality, drugs, alcohol and many other aspects are handled far better if you simply talk to your children.
The site also contains some great quotes from children on the matter of the filters. When asking a bunch of year 10 and 11 children to comment on them, they overwhelmingly said they knew how to bypass filters, or that they themselves were responsible for the main computer, making the filtering system completely redundant.
Chillingly, one suggested that if you blocked too much, it would be like China. This is more apt than the young person realises, as David Cameron is a big fan of China and specifically Chinese firm, Huawei, which produces porn filters for UK ISPs and Mr Cameron just allowed to invest many millions in Britain for a new R&D centre.
Fortunately the latest results on porn filtering show that almost everyone is turning them off. Get ready for the government to make that harder going forward.
Discuss on our Facebook page, HERE.
KitGuru Says: This parody site is very well done. Hopefully it'll help show how utterly ridiculous the filtering system is.