Expendables 3's fallout could go down as one of the biggest piracy related stories of the year. Not only was it leaked pre-release, but it was leaked at a decent quality too. This sent Lionsgate into a meltdown, with lawsuits, site take downs and presumably a lot of finger pointing behind the scenes. But what does someone who leaks a film like this stand to benefit?
According to director Lexi Alexander, it's often because of some "abused" assistant or employee. Directors that mistreat their staff are more likely to have their film leaked to the torrent scene, she said on her blog.
Looking at the way media lobbies target pirates and pirate websites, she said: "You want to be mad at the kid in Sweden or Australia for uploading your movie? Go for it. Oh wait, in cases like Expendables 3 it's actually someone here in Hollywood leaking it."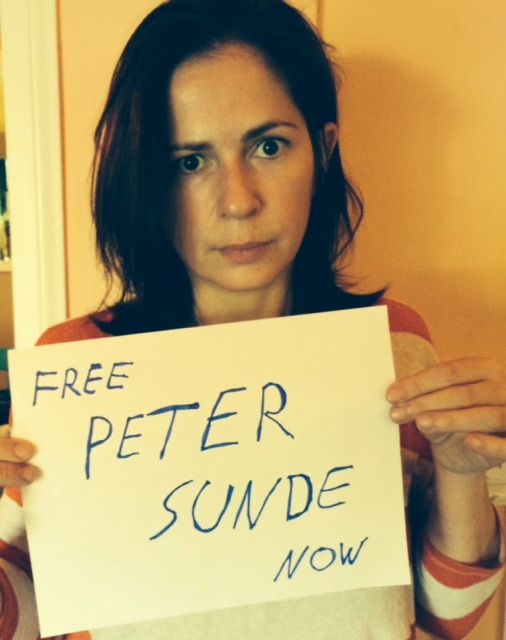 Alexander famously posted this image demanding the freeing of Pirate Bay founder Peter Sunde from prison
And of course it was. It had to be. The quality of the Expendables 3 film that hit torrent sites just over a week ago was too good for the person responsible for the leak to not have some connection to the inside. Alexander thinks it could quite easily be someone the movie's director was nasty to:
"It's kind of like going to a restaurant and thinking twice about insulting the waiter or busboy because you're afraid of what they'll put in the food before they bring it back," Alexander explained.
"Imagine those famously abusive directors, producers or stars (#notall….) having to tone down the abuse, otherwise LOUD EVENT MOVIE # 5 will show up on The Pirate Bay with a little note that says: 'Don't bother seeing this in the theater. Everybody above the line was a monster to us'."
All of this was part of a much larger piece that Alexander wrote addressing piracy and some of the problems she has with cracking down on it. She's not for copyright infringement, but she is very much against lobby groups and studios cracking down on (what is essentially) availability of content by shutting down pirate sites. She highlights an example of a Swedish website that was providing free subtitles for European shows, so that EU content can be viewed in English speaking countries. It was shut down for helping to circumvent copyright.
"Let me repeat this, in case it didn't sink in: Young people spend their free time to translate movies and TV shows so people in other countries can see them and what do we do? We shut them down. Well good job world!"
She then went on to address the movie industry and those that work in it, directly, telling them straight that they're part of the problem:
"And we are part of this my Hollywood friends.  When the Swedish Police raids an underground subtitle site it's only because of White House pressure which in turn comes from MPAA lobbyists. So the next time you sign up for some MPAA propaganda stuff or you write a letter on their behalf, you're the person standing behind the Swedish Cop as he/she kicks some poor subtitle writing kid's door in."
Discuss on our Facebook page, HERE.
KitGuru Says: It needs to be said at this point, that we (KitGuru) have no idea if Expendables 3 director Patrick Hughes is an abusive person or not, but clearly someone close to the film who had access to a pre-release DVD quality copy of the film wanted to mess its release up for someone.