If you thought The International 2016 was elaborate, with its huge prize pool and millions of viewers, it now has some competition. A Chinese company is running a contest that will see the top four teams in the world compete for the Nanyang Cruise Cup, a $50,000 tournament that will take place aboard a cruise ship, passing by China, Japan and South Korea.
The idea behind the cup, we're told, was to blend Esports viewing with tourism, to give live viewers aboard the 2,678 capacity vessel, a chance to watch high-level DotA 2 play up close, while also visiting cities like Shanghai, China, Jeju in South Korea and Fukuoka in Japan. The organisers hope this could encourage younger people to go on cruise holidays.
Put on by Chinese production firm, KeyTV, the tournament will rent a satellite specifically to give clear and fast internet access to the players on the ship and to show the world at large their streams without interruption. They will be made up of International 2016 winners Wings Gaming, who have already accepted their invitation. JoinDotA reports that Newbee have also accepted.
The following two teams will be decided by qualifier matches in the coming week.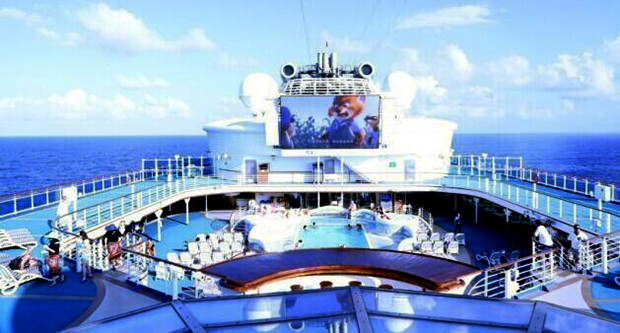 The tournament will take place on the deck usually reserved for community film watching. Source: JoinDotA
The ship itself is not barebones though. Alongside the live DotA tournament, those who do buy tickets for the cruise will also be able to enjoy the ship's nightclub, casino, indoor and outdoor swimming pools and a number of different restaurants.
The tournament will begin on 13th October, lasting for four days while doing the round trip between East-Asian countries. If it goes well, KeyTV plans to run another, larger tournament in 2017.
Discuss on our Facebook page, HERE.
KitGuru Says: Cruises are certainly more popular among elder holiday goers, but would you be more interested in going on one if there was a live DotA tournament not far from your room?