Kim Dotcom made headlines again last week with the news that Popcorn Time, the real end game for online movie piracy, was taken down from his Mega file locker service. According to his own statements, he had no idea about it until after the fact and we still don't know who pushed for its removal, but it's got Dotcom talking about piracy again and one thing he's keen to say, is that Popcorn Time, as illegal as it is/was, works better than any legal alternative.
When TorrentFreak got ahold of him to ask him about the Popcorn Time takedown, Dotcom admitted he'd only just gotten up, so wasn't entirely sure what they were talking about. While it's nobody's business when the man gets out of bed, his lack of knowledge of Mega's comings and goings makes sense, since he resigned from the company last year in order to focus more on the development of his music service Baboom and his fledgling political group, The Internet Party.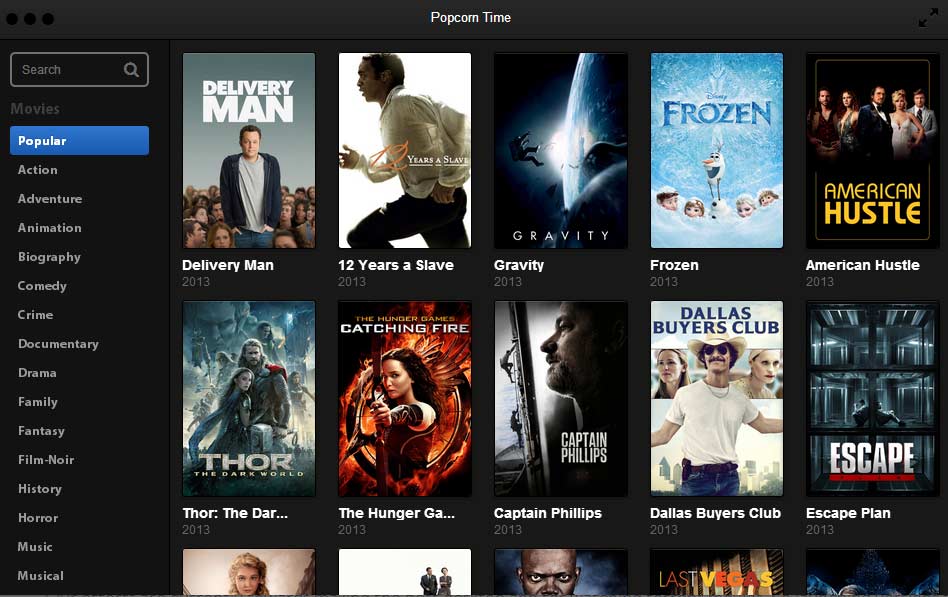 Popcorn Time is currently the Netflix we all want, especially in the UK where new movies are restricted by a News Corp monopoly
On the subject of the software itself though, Dotcom had a lot more to say: "Popcorn Time and countless similar applications show where the road ends for Hollywood. Ultimately it's a cat-and-mouse game Hollywood can't win by force but only with smarter Internet offerings."
He went on to say the movie studios needed to catch up, as the next stage of development will be smart TV integrated torrent streaming, encrypted internets which can't be taken down and much more uncooperative site owners.
"Combine that with apps and sites that provide a no-takedown one-click high-speed content experience and Hollywood's nightmare is complete," he said, going on to suggest that the MPAA and others would have to do things very differently if they hoped to remain relevant.
"Piracy is bigger than ever, despite overreaching law enforcement action & efforts by the MPAA and Chris Dodd to buy aggressive copyright laws and treaties. Hollywood made a mistake when they hired a powerful former Senator to run the MPAA in an attempt to fix their Internet problems with a sledgehammer," he said.
Moving forward, Dotcom suggested that movie studios and Hollywood in general embrace internet streaming, downloads and all sorts of media interaction that contemporary viewers are making use of and create appealing services that are comparable to the illegal alternatives. He'd even help them build it if they'd ask.
KitGuru Says: While I get the feelings things will get worse before they get better, I do agree with Dotcom: the best way to combat piracy is to offer a better alternative, that's all piracy does in the first place anyway.