If you own anything from a NES, right through to an Xbox One, there's a lot of people you have to thank for getting the industry to the state that allows you to play the games you love, but few people more than the late Ralph Baer. In the mid 60's, he conceptualised and eventually patented the idea for a system that allowed you to play games in your home, leading to the creation of systems like the Odyssey, Atari's Pong and many more.
While there is a lot of debate about who invented the first video-game, with some pointing to the 1958 release, Tennis for Two, or way back to the 1947 creation, Cathode Ray Tube Amusement Device, what Baer did, was make gaming affordable and available. While all of the earliest games were created and played on giant military computes, Baer's was comparatively simple, featuring just 40 transistors and 40 diodes.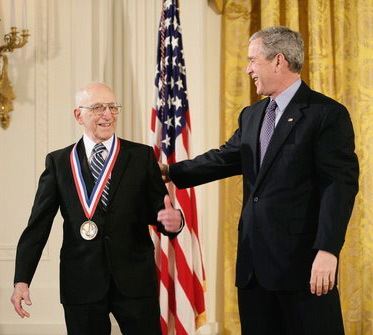 Baer, seen here in 2006 receiving a National Medal of Technology from then President George W. Bush
His initial creation was called the Brown Box and the patent that Baer secured on it on behalf of his employer, Sanders Associates, gave it a legal monopoly on any product that connected to a TV and let you control pixels. This meant that after it released the Brown Box – then called the Odyssey – through partner Magnavox in 1972 and just a few years later Atari released its Pong system, it smelled blood.
Ultimately Atari settled out of court for $700,000 and became an official partner of Sanders Associates. As the NYTimes points out, this wasn't an unusual case though, as before long other companies sprang up hoping to take advantage of the video game craze that started to build, many of whom were sued in turn by Baer's company. This happened so much in fact, that in the late '80s, Nintendo's VP Howard Lincoln, was quoted as saying that the Odyssey's maker, Magnavox, wasn't in the video game business, but was "in the business of suing people."
Baer patented many different devices throughout his life, inventing everything from singing doormats, to the incredibly popular "Simon," game in the late '70s. It was a curved disk with colours and sound effects, which would light up in order, with the user charged with repeating the pattern. Those sorts of toys are still incredibly popular today, albeit coming ins slightly more complicated guises.
After a long and illustrious career, Mr Baer died this weekend at his home aged 92.
Discuss on our Facebook page, HERE.
KitGuru Says: Thanks Mr Baer. I probably wouldn't have a career writing about people like you if it wasn't for people like you.