A lot of the news surrounding Tim Schafer's Double Fine hasn't been particularly positive as of late. It let some people go due to a cancelled project and it ended development of Space Base DF 9 earlier than expected. However it shouldn't be forgotten that it has an HD remake of Grim Fandango in the works and on top of that, it's just announced that it will also be making a fancy recreation of another LucasArts classic, Day of the Tentacle.
The original Day of the Tentacle, which  came out way back in 1993, was actually officially titled, Maniac Mansion II: Day of the Tentacle, and featured a playable version of its prequel in its entirety, showing off how much game development had come on since its release in 1987.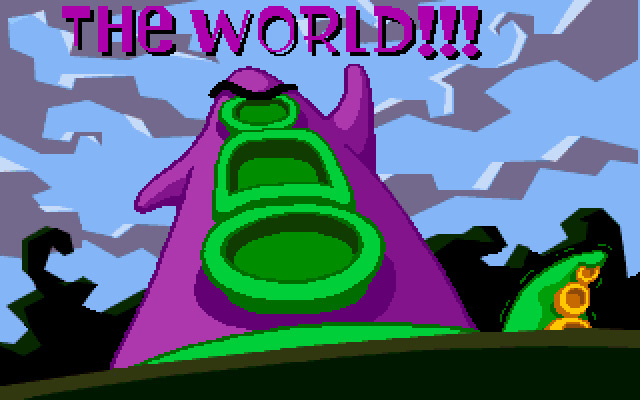 Day of the Tentacle has you trying to stop the 'evil' tentacle from taking over the world. Obviously. 
Gameplay is much the same as other point and click adventures of that era, with item combining, puzzle solving and plenty of humour. Day of the Tentacle changed it up however, by having three simultaneous playable characters, that operated in different time zones and could only send items to one another via a toilet.
There's been no word on when Double Fine plans to release this remastering, but presumably it will be around mid-way through 2015, as the Grim Fandango remastered version is coming out in January and it was only announced mid-way through this year.
Discuss on our Facebook page, HERE.
KitGuru Says: Day of the Tentacle is my all-time favourite point and click from that era. Now I'm glad I haven't played it in a few years as I've probably forgotten a good number of the puzzles by now.