If you're not trying to rack up a new Donkey Kong world record, or even if you are, this weekend coming is the one where you should really let your gamer flag fly. You should stream it too as part of the Special Effect charity's Game Blast event and help raise money for thousands of disabled gamers. The big challenge is to try and marathon game for 24 hours or more and get your friends, family and new found fans, to contribute via your newly set up Justgiving page.
While you can give money to Special Effect all year round, this weekend's Game Blast, running from the 21st to the 23rd, is hoping to get everyone on board at one time, to really kickstart the year's fundraising. Any money raised will go to help gamers who through injury or disease, aren't able to play using standard controller set ups. What Special Effect does which is so important, is it goes in and modifies controller systems so they can continue to play.
[yframe url='http://www.youtube.com/watch?v=hKLNrCivOzw']
I spoke with some team members at the Multiplay i50 event last year and they explained how Special Effect loans hardware, until either the gamer has recovered or is able to afford to buy their own controllers (which Special Effect then modifies for them). However, in many cases these individuals are dealing with degenerative conditions, so Special Effect will continually return to that person's home and further modify the hardware to make sure they can continue enjoy their favourite games for as long as possible.
If you're looking to take part and set your own marathon gaming goals, then don't forget there's plenty of imagery to help promote the campaign, that you can freely use on your Facebook, Twitter or anywhere else to aide promotion: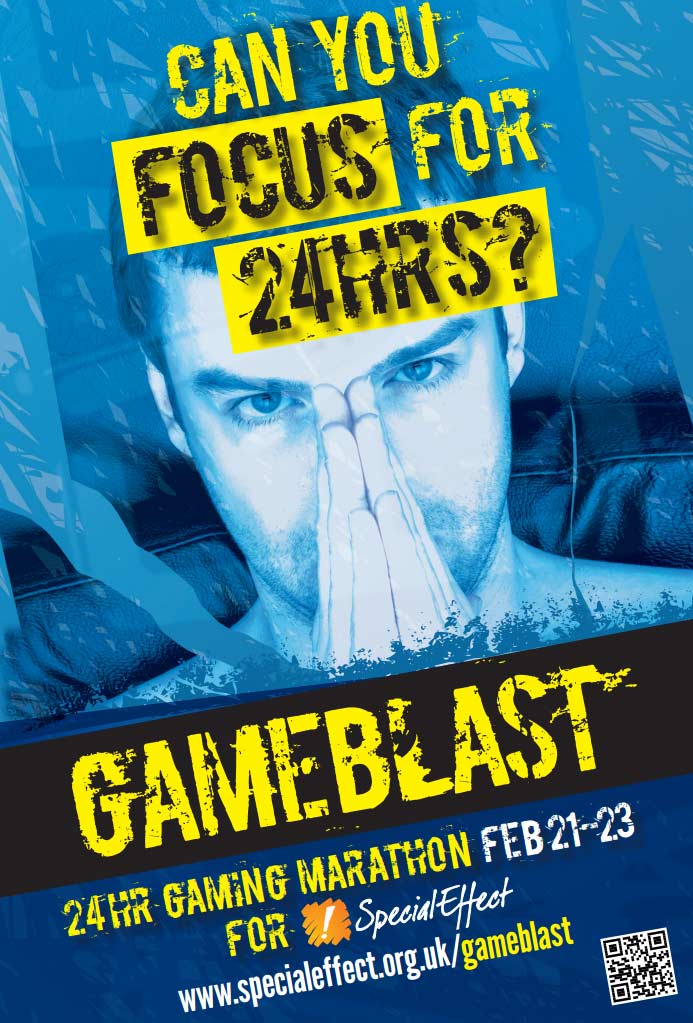 Kitguru Says: I know there's already a few Kitguru readers that are taking part in the Gameblast, but whether you've been planning to for a while or have just decided to get involved, post your links on the Facebook, or mail them to me at jon[at]kitguru.net, and I'll make sure to promote the hell out of them.