Tizen Association, an industry consortium that supports the development of an open source Tizen software platform and operating system, last week announced that it had been joined by 15 new members. The expansion of the Tizen team will likely speed up its adoption and will make the platform more competitive when it eventually hits the market.
Tizen was originally developed by Intel Corp. and Samsung Electronics. The two companies established Tizen Association last November along with 34 other companies, in a bid to improve competitive positions of Tizen. It looks like the association is growing quickly as by mid-February 15 new members had joined the organization.
The newest associates of the Tizen Association include mobile game publishers, operators, application developers, mobile software management vendors and major telecommunications companies. New members have the ability to join relevant Tizen Association working groups and to participate in Tizen Association meetings, giving them more access, insight and input into the development of the Tizen OS.
While the new members will clearly influence the operating system in the future, now it seems to be more important to release the OS on commercial devices. Samsung planned to launch a Tizen-powered smartphone back in 2013, but after numerous delays the product is still not on the market. Other hardware makers from the Tizen Association, Huawei and ZTE, have not even announced plans for their Tizen-based smartphones.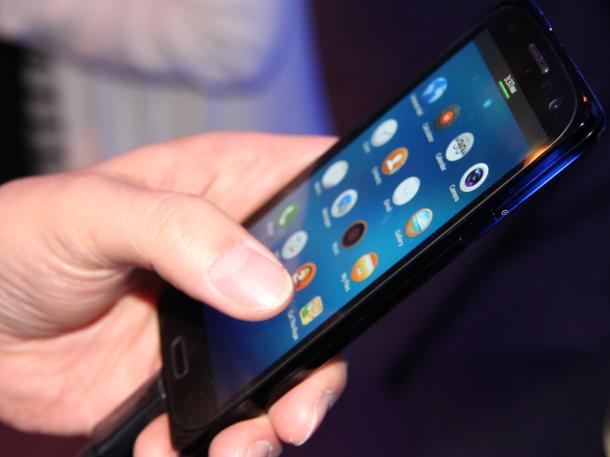 A prototype of Samsung smartphone featuring Tizen OS. Image by ZDNet.de.
Tizen is going to compete against a number of other mobile platforms, including Apple's iOS, Google's Android, Microsoft's Windows Phone and Mozilla's Firefox OS. While at present only iOS and Android are successful, the main problem for Tizen is that it is simply unavailable despite of broad support from the industry.
Both Tizen and Firefox OS are based on HTML5 technology and can support a wide-range of cross-platform applications. Since HTML5 relies on open standards, apps developed for one type of devices can work on other hardware as well provided that they do not use certain proprietary features. Back in December Samsung Electronics called Mozilla to unify software development tools for Firefox OS and Tizen operating systems to ensure broader availability of HTML5 apps.
KitGuru Says: The situation with Tizen seems to be very interesting. Since it is backed by Samsung and Intel, it is not surprising that other companies join the Tizen Association. However, it is completely unclear how successful might Tizen actually be on various markets since there are no smartphones on its base.