A hexacopter drone's operation during a triathlon in Australia, is being investigated by the Civil Aviation Safety Authority (CASA) after it fell from the sky whilst filming the race. While the report initially suggested that the drone struck one of the racers and injured her, other evidence now suggests she injured herself after becoming startled at its landing.
The drone was filming the event and was being manned by local Warren Abrams, who's film company, New Era Photography and Film, was covering the event. However at one point during the race, the drone dropped out of the sky, ending up in the injury of one of the competitors. Abrams claims that this happened because someone used a mobile phone to "channel hop" the device, removing control of it from the operator.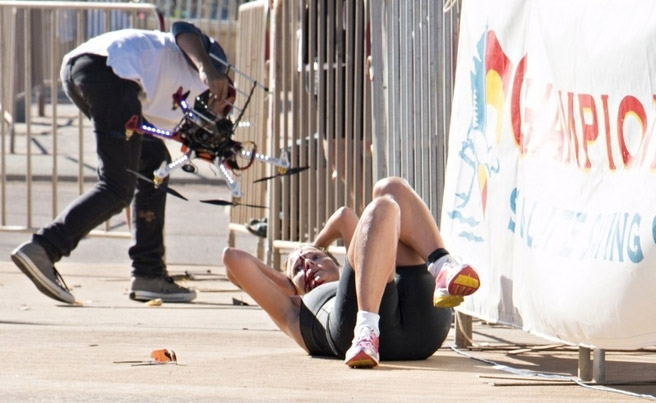 The athlete seen here with the drone in question. Source: Browning Media
However, whether it was deliberately interefered with or not – an investigation is planned by both local authorities and the CASA – Abrams has been reminded that there are specific rules governing unmanned aircraft, such as maintaining a distance of at least 30 metres from all people. During its filming of the race, the drone was said to be around 10 metres above the athletes.
It also highlighted that in Australia, to operate an unmanned drone in a commercial capacity, you have to be certified to do so. Neither Abrams nor any of his employees are on that list.
KitGuru Says: It sounds like this may have just been an instance of the pilot getting detracted and losing control through his own error, as any decent drone shouldn't just drop out of the sky at the interruption of a signal. If his drone was a really basic one though, then he shouldn't have been flying it above people.
[Thanks
ABC
]