Kickstarter has announced that it's cutting back its restrictions on new campaigns, streamlining the rules that govern new projects on the site, making it much easier for people to get their products out there in-front of the pledging crowd and even making it possible for new types of products to be showcased.
Slashing rules that weren't needed, Kickstarter has boiled it down to a distilled list of just three core laws for the site that cannot be broken:
Projects must create something to share with others.
Projects must be honest and clearly presented.
Projects cannot fundraise for charity, offer financial incentives, or involve prohibited items.
These rules were already present before, but they're now the only ones left standing, meaning Kickstarter is hoping to be a little more welcoming in future iterations. On top of that, stripping some rules means new products can now be launched on Kickstarter, including bath and beauty and different kinds of software. Hardware products can now offer multiple quantities of a reward for higher pledges too.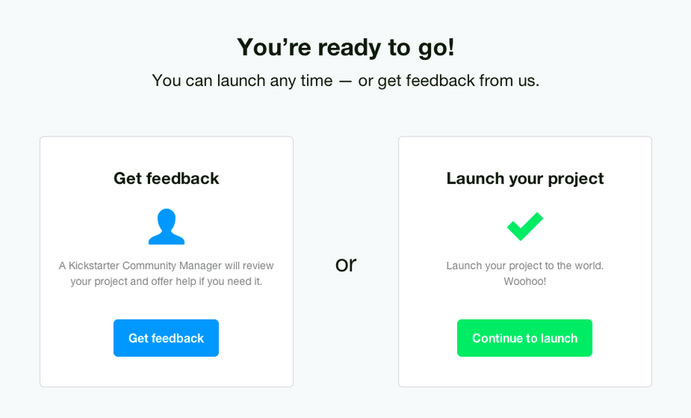 New projects will now lead you to this page before being published
Kickstarter has also made it even easier for campaigns to get started, by giving creators two options when they build their page: Launch now, or get some feedback. In the latter option, a Kickstarter representative will have a look over your page, product and pitch and give you some tips on how to improve it or make it more exciting for potential pledgers. Launch now on the other hand, puts you front and centre without that coaching.
Discuss on our Facebook page, HERE.
KitGuru Says: Do you guys think these changes sound positive, or is relaxing the rules a slippery slope for a site like this?