The man that wrote the biography, The Secret Life of Kim Dotcom, has been receiving threats from the New Zealand authorities demanding that he reveal key sources from his book's research, as they believe the communications referenced in the book's writing have relevance to Dotcom's current lawsuit against the GSCB for its illegal spying activity.
The letter received by biographer and New Zealand Herald journalist David Fisher, comes straight from the New Zealand Crown Law, the legal advisor for the NZ government, which in this instance is acting on behalf of the police and disgraced spy agency GCSB. In the letter it demands copies of recordings and emails that Mr Fisher put together during the book's research. It's already asked Dotcom and his co-defendants for copies, but they denied having ever been given any.
However, while the request is firm, it's not overly aggressive, as despite saying it wants a response by Friday 24th January, it does add the caveat that the GCSB and police do not "seek the material, or access to the material, by this date, we simply seek your response to our request." However, this is followed up by a suggestion that should Mr Fisher refuse to hand over the information, it will apply for a High Court order to give them legal precedent to acquire it.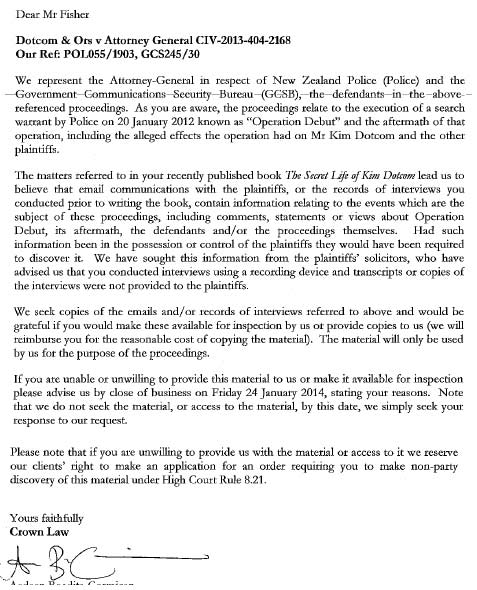 Paul Little, the book's publisher, said: "I've never seen anything like it as a writer or editor before. We're taking (legal) advice and once we've got that advice we will know where we are going from here." Others have expressed similar surprise, with many wondering how the Crown Law will word its request to the High Court, which may well deny it without a valid reason.
This is all in relation to Dotcom's own legal action against the New Zealand authorities, which he claims pursued him with excessive aggression and force when it illegally snooped in on his private communications and movements, as well as raiding his home with heavily armed officers, despite him being a big computer nerd without any arms of his own. Dotcom is currently seeking $6 million in compensation.
KitGuru Says: Considering the GCSB's actions have been ruled illegal, to the point where the prime minister John Key had to apologise for it (though said he wouldn't pursue any action against the intelligence agency), it seems hard to imagine how the GCSB will get out of paying Dotcom something, whether it gets the information or not .
[Cheers
NZHerald
]