If you thought the free for all battles across Panau were already manic in Just Cause 2 multiplayer, they're about to get crazier – though ironically, also more organised. In the latest patch/update from the developers, a new tool has been made available for server owners, which allows them to add any model from the game into the world – get ready for crazy stunt maps and Inception style dimension bending.
"It's finally here! We've added the ability to spawn any model from the game, giving scripters an opportunity to massively extend Panau with their own crazy creations," reads the opening line of the feature list changelog, along with the following mind bending picture: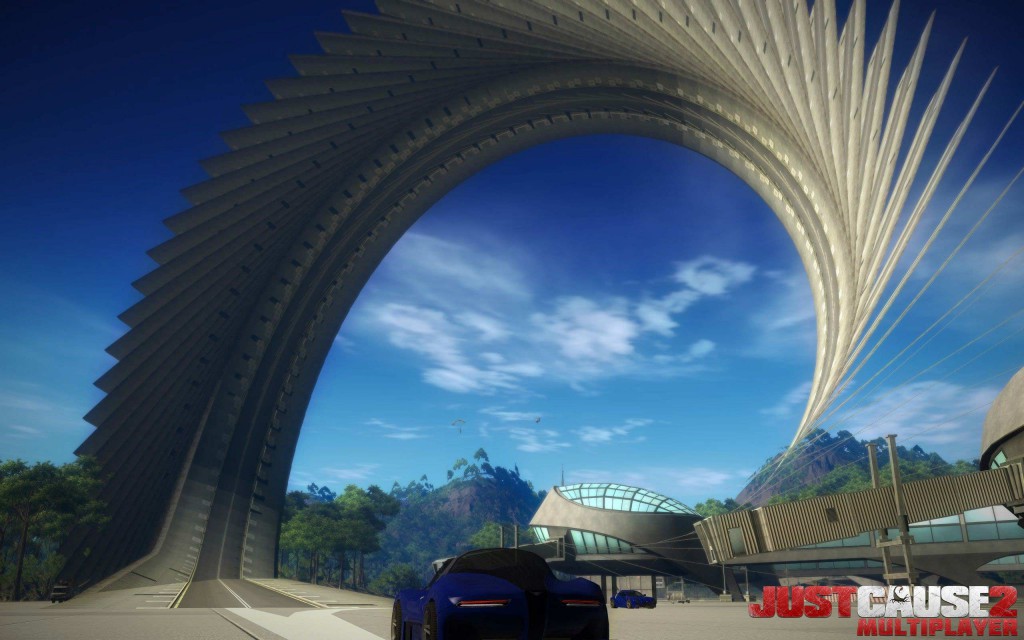 With almost every single model within the game now spawnable at the behest of the server admin, we should be able to see some pretty unique environments springing up over the next few weeks.
However this update isn't just for admins, it's got a new feature for us humble users too: highlighted servers. This is perhaps one of the better features to hit the game, as most of the time people just jump into the most populated servers, which tend to be the free-for-all, everything is free, super boost, ridiculous ones. They're fun for a few minutes, but are incredibly shallow as there's no point to what you're doing.
To remedy that, select servers will be highlighted each week in the server browser, letting you find the more exciting gameplay servers a bit more easily. They'll be rotated through each week by the developers, but to start things off the persistent worlds of Battle for Panau: Faction Wars and Real Life (roleplay) servers are getting the highlight treatment. They let you join a gang and take part in missions, it's far more satisfying and even features some level up RPG gameplay.
On top of these new features, there's a lot of bug fixes and updates to the server and client packages – check out the full changelog here.
KitGuru Says: This is a mod I've been playing quite a lot of recently – it really is great fun on the roleplay servers where you end up doing real missions between factions with a team of your fellow rebels or government agents. If you'd like to join in and play with Kitguru staff and readers alike, join our Steam group today!