We don't tend to cover gossipy story likes marriage break ups here at KitGuru, partly because it's not what this site is about but also, because it's not really any of our business. However, when it comes to the legal ramifications of internet entrepreneur and political figure, Kim Dotcom regaining control of many of his founded companies, it's certainly worth mentioning.
Yes, Kim Dotcom, the founder of MegaUpload, Mega and the Internet Party, has announced that he and his wife Mona, have split. While that undoubtedly involves a lot of personal upheaval, it puts Dotcom in an interesting position, because for a long time now, his wife has been the holder of director roles at many of his founded companies, often in Dotcom's stead. She was also head of a family trust which owned several of Dotcom's companies in their entirety.
Dotty Media, Kimpire Music and MD Corporate Holdings are all now back in the hands of Kim Dotcom. It's thought that before the split, his wife maintained control should something happen to him in the legal proceedings currently ongoing in New Zealand and potentially the US, should his extradition go ahead later this year.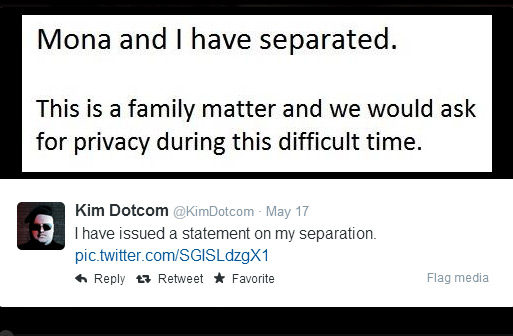 However, Mona Dotcom does maintain a family owned share of Mega, which is set to float on the stock exchange in a reverse takeover in the coming months.
Dotcom's only official comment on the matter came through his Twitter, where he made it clear what had happened, but asked for privacy while the family sorted it out. As Stuff reports, Internet Party spokesman John Mitchell issued a statement saying that the new political party would not be affected by the split.
It could mean the end of big picnics at the Dotcom house though.
Discuss on our Facebook page, HERE.
KitGuru Says: It will be interesting to see if any of Dotcom's legal opponents attempt to capitalise on this in some way, perhaps by using his newly renewed ownership of these companies to deny him further frozen assets.