The extradition trial of the MegaUpload operators, including Kim Dotcom, versus the United States, has been ongoing for just over a week now, with most of that time spent giving the New Zealand Crown Court – representing the U.S. – its opportunity to paint an unflattering picture of the site and its administrators. With the defence now given a chance to speak, they've argued as part of a stay application that tactics to limit Dotcom and his fellow defendants' funding unfairly weighted the trial against them.
The case against Dotcom and various other MegaUpload employees is a complicated one. They stands accused of crimes in the United States, where the government wants to send them. However, they must be extradited first, which means proving their guilt to a certain extent in New Zealand, but relating to U.S. law. With that in mind, Dotcom's team wants to hire U.S. legal experts to help advise on the case, but they can't (they argue), because the courts have frozen Dotcom's funds.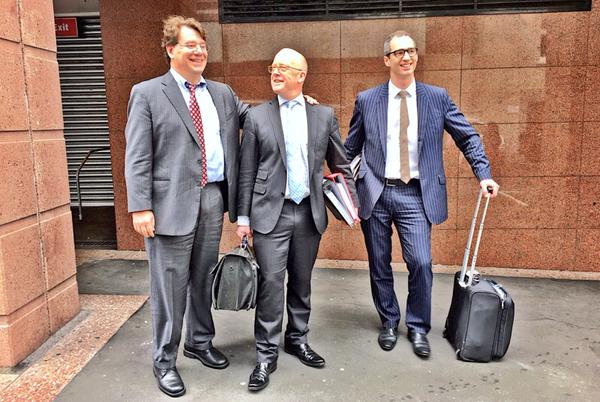 You can't say Dotcom's defence aren't snappy dressers though. Source: Dotcom/Twitter
As it stands, they can only hire New Zealand citizens to aid the case, which isn't enough to provide adequate defence they claim. That "means that the hearing is fundamentally unfair," argued Dotcom's legal representative, Grant Illingworth (via 3News).
"From our point of view what we say about American law is purely guess work and we would be in grave danger of being held to being negligent and incompetent. In any other case we would seek expert advice," he said, claiming that tactics used against Dotcom and his fellow defendants amounted to an abuse of process.
Discuss on our Facebook page, HERE.
KitGuru Says: Can any legal experts among you explain why Ira Rothken, a U.S. based lawyer that heads up Dotcom's legal defence team can't be called on for 'expert advice' in this instance?