One of the problems the Oculus Rift has had over the past year or so, is that it's been part of the next, great, tech chicken and egg scenario. While there have been some great independent developers making content for it, there hasn't been much in the way of big releases to really draw attention to it, or give the users of today something to watch tomorrow. However, the tide is starting to turn and early adopters of the first and second devkits, can expect to be able to watch David Attenborough's next nature documentary, Conquest of the Skies, on their Rift, later this year.
The creators of the show, unsurprisingly based around birds, used an eight camera rig for some of the recent shots taken in Borneo, according to the commercial director of Sky Atlantic, which the show is being filmed for. He said (via Realscreen) that it would offer the full 360 experience. This should allow anyone with a Rift to listen to Attenborough's commentary, while looking around wherever and at whatever they want.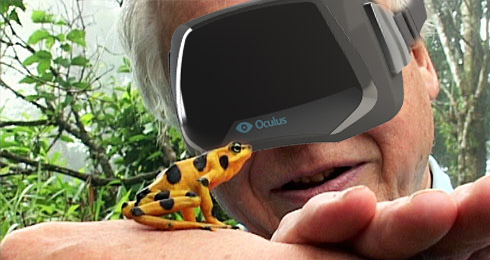 No David, you don't need to wear one… (Source: NHM)
Morris is definitely behind the tech though, despite seeing dollar signs – believing that there will be millions of Rift-like headsets sold soon – suggesting that current Rift users are like the first movie-goers of the early 20th century, trialling a new medium of entertainment that there are few, if any, hard and fast rules of production for.
KitGuru Says: This should add a whole new dimension to these documentaries, and makes repeat viewing much more likely, since there will be so much more to see now. Still, you have to feel a little bad for those cameramen that have spent decades figuring out how to get the perfect shot, and there we'll be with Rift's strapped to our face looking in the opposite direction, just because we can.