Suddenly becoming a billionaire overnight must be quite bizarre, as what do you do with that kind of money? But there's more than a few people that that's happened to this year. Oddly enough, they've been people in the gaming industry, like Oculus VR's Palmer Luckey and the original creator of Minecraft, Markus "Notch' Persson. Notch for his part, has just taken his first big stab at spending some of those doubloons and has purchased Beverly Hills' most expensive mansion, for a cool $70 million (£44.7 million).
The 23,000 square foot house features a 54-foot, curved glass door that automatically opens up to an infinity pool with tablet controlled fountains and heating. It also comes with an 18 seat theatre and a dining area that can seat upwards of 24 people. While that might not seem that impressive, consider that the place settings for each person alone, are said to cost upwards of £2,000.
In total there are eight bedrooms, with 15 bathrooms throughout. Apparently taking a crap is something to take very seriously in LA.
In-case you were wondering if this really is his home, the man himself posted an image of his feet relaxing in the new Notch HQ.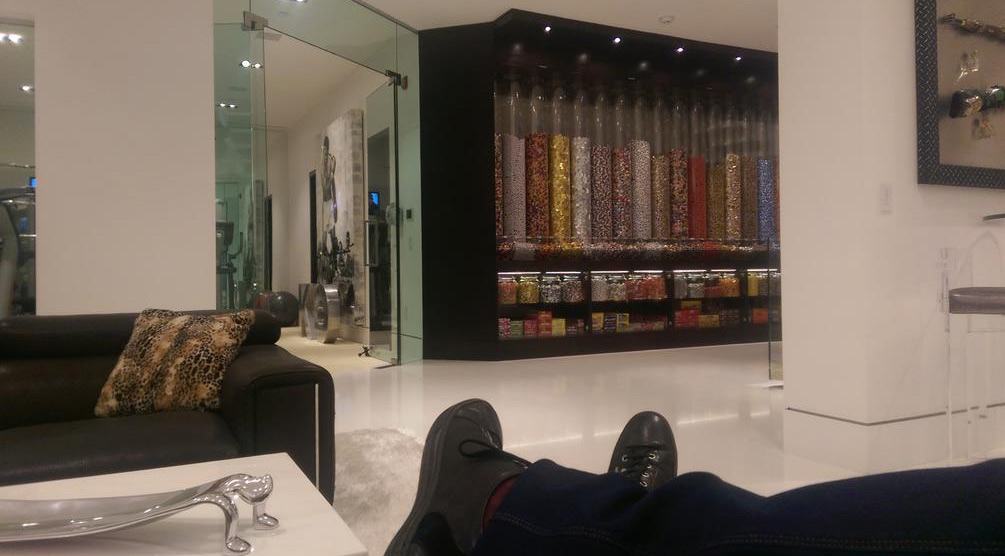 Yes that is his own personal US version of Pick N' Mix. Living the dream right?
He's also been answering questions on Twitter, stating that the cars didn't come with the house, that the Japanese toilets are "scary," and that he feels pretty weird about the whole purchase, but thought he would "give it a shot."
Discuss on our Facebook page, HERE.
KitGuru Says: While nobody would deny that Notch doesn't deserve to enjoy the fruit of his labours, it seems even more hypocritical that he essentially called Palmer Luckey a sellout, who to this day continues to work on his pet project. Instead of dropping it after two years because he was bored.