While film-going is obviously still a very popular pastime for people, with ever increasing ticket prices, continued fleecing for food and drink and the massive improvement in home entertainment over the past few years, it feels like the experience is dying. The general thinking is that it either needs to become cheaper, or more premium (and worth the money) to survive, but one other option is being trialled by Ourscreen: democratising it.
With Ourscreen, the idea is to make the cinema going experience something that you're calling the shots for. Want to see the latest release with three of your friends? No problem. Want to invite all your extended family to watch Evil Dead (Army of Darkness, of course)? Sure. The point is, Ourscreen cinemas will show what you want them to show and you can even control the ticket prices.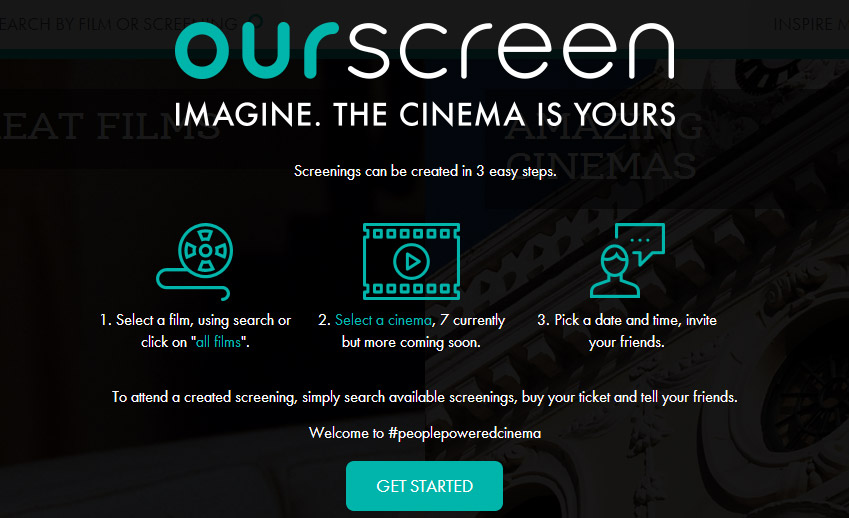 Of course, you can't just set them low because you don't feel like paying much, but when you sign up for a film viewing at Ourscreen, you select the time and date of the viewing, as well as how many people will be attending. If your numbers are good, ticket prices will be lower, but if you want a private screening for just a few of you, expect to pay a premium. If/when those people all sign up and pay for their tickets, only then will the event be officially on.
If you don't feel like you have enough close acquaintances but still want to watch something specific, or old instead of the latest blockbuster, then you can open the screening up to the public too, but you'll still need to get the requisite number of viewers, otherwise it won't go ahead.
In essence, Ourscreen works like Kickstarter, but for cinema screenings. If enough people pledge, you get the rewards.
Ticket prices on the site are still relatively high, though venue plays a big part. Smaller numbers of viewers can get away with cheaper tickets at smaller venues and the threshold can be pretty low too. Watching The Borderlands at The Cameo on 28th March for example, is £7.80 a ticket and only 14 people needed to attend to confirm the viewing.
Currently seven cinemas around the country are signed up the the scheme and there are over 200 movies to choose from, but both venues and film lists are expected to grow over the next few months.
KitGuru Says: This sounds like a great way to save the cinema, making it possible to see old movies how they were meant to be seen and letting others see the latest films without crowds of mouth breathers and loud talkers. 
[Thanks Wired]