A new version of The Pirate Bay has popped up online, but this one wasn't made to circumvent blocks or prevent takedowns, it's designed to offer a porn-free torrenting experience. Now you can share files and folders over the torrent search site without fear of downloading something else, or even seeing a scantily clad human on a banner advert.
With the recent takedown or shutdown of a number of the world's biggest torrent sites, The Pirate Bay has once again become the most visited P2P site in the world. However for many people, its volume of pornography and occasionally titillating adverts makes it difficult to navigate at work, or at all depending on their culture or social circle.
With that in mind, a developer who goes by the name of MrClean, has launched TPBClean, a version of The Pirate Bay that filters all of the porn out and makes sure the adverts are as wholesome, or as unrevealing as possible.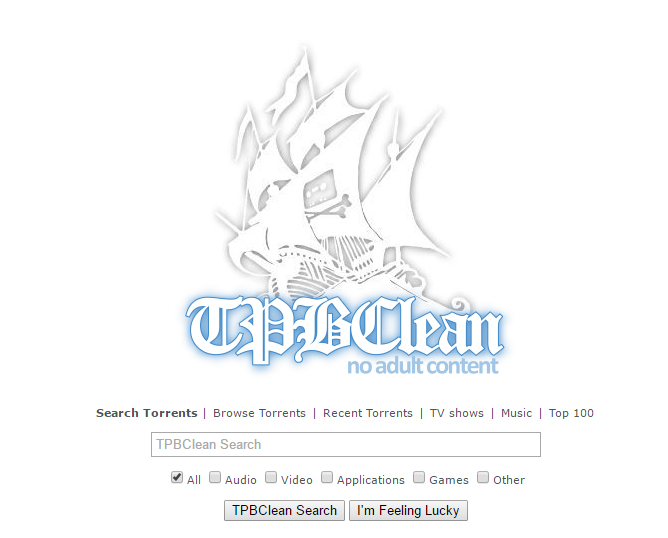 He stumbled upon the idea while trying to hire Indian programmers to work on torrent related projects, as he found many of them wouldn't touch certain sites for fear that they would be subjected to pornography in various guises. So MrClean saw an untapped market for a torrent site which didn't subject users to nudity of any kind and that's what he created.
"Although many TPB users don't mind tits in their face while searching the top 100, TPBClean users will have a more 'Safe For Work' experience," MrClean said in a chat with TorrentFreak.
The site works by mirroring Pirate Bay's content and acting as a proxy, but it filters out anything that could be considered XXX.
Discuss on our Facebook page, HERE.
KitGuru Says: It would be funny if this proxy received less attention from authorities because it was considered less offensive. In reality though its use of non-pornographic advertising might make it easier to take down since targeting a smaller pool of ad companies could be easier.